St. Jude

makes progress even in a pandemic

May 22, 2020 • 2 min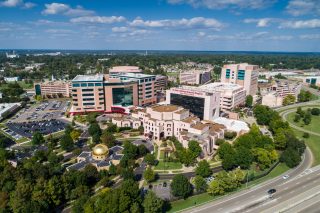 We're in an extraordinary period at St. Jude Children's Research Hospital with the campus closed to visitors and non-essential employees because of COVID-19. But it's important you know that even in a global pandemic, even since the shelter in place orders were enacted, St. Jude has recorded several major achievements.
I hope you've already heard St. Jude, in partnership with the International Society of Paediatric Oncology, has launched an online global registry to track kids with cancer and COVID-19. The idea is to gather data, convene discussions and improve outcomes for kids everywhere who face such a frightening dual threat to their health. This essential leadership position is emblematic of our founder's intention to impact kids around the world.
But with so much attention on COVID-19, at home and work, at least three other major achievements have been overshadowed. I don't want you to miss the news because you – donors everywhere – play such a key role in every advancement.
Under more normal circumstances all three would have received far more attention:
St. Jude has expanded its research of pediatric catastrophic diseases into neurological disorders which affect 1 in 6 kids. Yes, St. Jude has always focused on cancer treatment and research, but Danny Thomas, our founder, set us on a course to find cures for all kinds of diseases and disorders threatening the lives of kids everywhere when he opened our doors in 1962.
St. Jude announced a cure last year, for example, for X-linked severe combined immunodeficiency, known as "bubble boy disease," and is a major research center, too, for Sickle Cell Disease.
Now, in hiring Dr. Richard Finkel to establish a Center for Experimental Neurotherapeutics, St. Jude is further expanding its research scope and, honestly, continuing its record of attracting the brightest minds in science.
Dr. Finkel is a leading international expert in spinal muscular atrophy and played a vital role in developing the first successful therapy for the disease which had been the leading genetic killer of children.
Another of those bright minds, Douglas R. Green, Ph.D., an immunologist, was elected recently to the National Academy of Science. It's deserving recognition for his contribution to understanding the mechanism of cell death and survival, and further evidence of just how deep the talent is at St. Jude. He's among the world's most cited researchers having published more than 600 papers, chapters, commentaries and books. His is the 12th appointment of a St. Jude faculty member to the prestigious Academy.
And finally, amid the pandemic, St. Jude continues to make progress on malaria, a leading cause of illness and death in children. The first human study of an anti-malaria drug developed at St. Jude offers a reason for hope, according to recently published findings.
All this and more during a pandemic; the most disrupted time of our lives. You make this possible with your remarkable support. Please know we need you now more than ever.
Richard C. Shadyac Jr. is President and CEO of American Lebanese Syrian Associated Charities, the fundraising and awareness organization for St. Jude Children's Research Hospital.