Virtual race day: Supporting
St. Jude

anywhere, any time
As the
St. Jude

Memphis Marathon Weekend goes virtual, survivors like Hillary prove the race — and finish — are within each of us.

November 28, 2020 • 2 min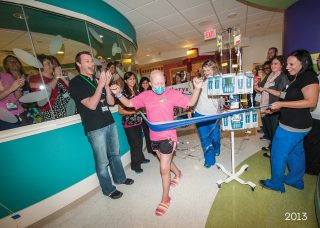 Picture it: The race leader comes around the final corner to be greeted by a cheering crowd of onlookers. Her hands go up. She breaks through the finish-line ribbon.
That could be a scene from any race anywhere in the country. It could even be a scene from the St. Jude Memphis Marathon.
Each year, the marathon held here in the hometown of St. Jude Children's Research Hospital is our largest single-day fundraising event. Last year saw 26,000 participants across all race levels — 5K, 10K, half and full marathon. Another 40,000 were on hand to cheer them on.
While that event alone raised an impressive $12-plus million for the lifesaving mission of St. Jude, it's that diverse crowd I'll miss this year as the event is shifted necessarily and rightly to virtual.
I've had the privilege over the past decade of standing onstage at the start lines, and there is nothing quite like looking across corrals of thousands, all dressed in St. Jude attire. All ages, races and ethnicities from across the country and around the world. All eager to do their part. All with our kids on their minds and in their hearts. It is truly the manifestation of the St. Jude spirit.
That spirit is strong as well at mile five. That's when the first marathon runners hit the campus gates of St. Jude. It's where they run among patients and their families, among doctors and researchers and caretakers. It's where they see the smiling faces they support. There is rarely a dry eye along that stretch.
These are the sights and sounds and emotions I'll miss this year.
We'll all miss the in-person, electric feel of race-day, but consider the scene I began with. Picture the winner of that race, her arms raised, a smile on her face and a feeling of accomplishment her heart.
That wasn't an event with thousands. It took place in 2013 on the Bone Marrow Transplant Floor here at St. Jude. The sole participant was Hillary, a three-time cancer survivor who, having finished a bone marrow transplant, vowed to finish a marathon — walking 26.2 miles, one one-mile lap of the floor at a time. The crowd on hand? That was her care team — doctors, nurses, therapists. There was hardly a dry eye.
Hillary proved a race can take place anywhere, at any time and under any circumstance — she did so in house slippers and trailing an IV stand. All you need is the desire in your heart and a drive to see it through. Hillary has that in droves. Having first been diagnosed with B-cell acute lymphocytic leukemia as a teenager in 2008, she's now 27 and finishing another long race — her master's degree. She has her sights set on a PhD next August. I think she'll get it.
So, next Saturday, we're asking you, our supporters, to lace up and run in your neighborhoods, through local parks, across your own city — anywhere you can do so safely — in support of St. Jude. And I ask you, in those moments when your legs are tired and your breathing heavy, to think of Hillary and all the kids here at St. Jude who are cheering you on wherever you are.