For families like Jeremiah's, we must keep asking
With so many in need, we humbly thank
St. Jude

supporters for the generous choices they make.

November 21, 2020 • 3 min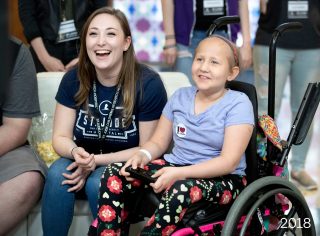 The extraordinary challenges of 2020 have taken their toll on so much in the world — from education and business, to the way we socialize and celebrate together. Not the least of the adversely affected are charitable organizations dependent upon the generosity of the public.
Charitable giving is discretionary and when economic fears abound it understandably makes fundraising more difficult. Everyone has their own troubles, their own uncertainties and worries, making the business of asking for help a delicate one for charities everywhere.
Courage and risk can be business differentiators, but for our business in particular, so is compassion. As challenging as the year has been, it has shown me the boundless capacity for compassion among our generous supporters.
Still, it takes a lot for us to ask for help, especially in the middle of a pandemic. I'm humbled every day I step on our campus to see moms and dads and their children struggling. They're no different than my wife and I were as young parents, other than our good fortune. So I believe it's incumbent on me to ask: Please join our mission and help families devastated by catastrophic diseases.
I'm equally humbled by our supporters who, despite today's challenges — in fact, because of those challenges — walk hand-in-hand with St. Jude families on their cancer journeys.
Danny Thomas understood the capacity for compassion among our earliest supporters. And he understood: If you don't ask, you don't receive. He considered himself a "proud beggar," willing to put pride aside and humbly ask for help from anyone and everyone he talked with.
He did so for the moms and dads he saw struggling. And for those he would never meet, like Jeremiah.
It was 2014 when Jeremiah brought his 6-year-old daughter, Kiara, to St. Jude with medulloblastoma, a brain cancer that had spread to her spine. Through radiation therapy and chemotherapy, St. Jude was able to save her life.
But Kiara made close friends with others in treatment who couldn't be saved.
"These families are forever changed, and so are we," Jeremiah said. "Our hearts and minds have been opened to the real impact of childhood cancer."
We keep asking for those families. And thanks to supporters like you, St. Jude is in the midst of a crucial expansion that will see a new, 625,000-square-foot advanced research center open next year. From its state-of-the-art laboratories will come the next great leaps in the research and treatment of devastating pediatric diseases.
And thanks to the support of our amazing partners at Domino's, we just broke ground on a new patient housing facility of 140 fully furnished, one- to three-bedroom apartments keeping patients safe and comfortable, and providing a ready-made community right on our campus so families can heal together.
These projects, and this care, can't be stopped because of the pandemic.
Next week our Thanksgiving celebrations may feel different, but I hope you'll be able to celebrate with your friends and family in some safe way. And I hope you'll remember your St. Jude family gives thanks for you and with you because we understand where you give your money and your time is a very personal choice and there are so many worthwhile charities asking for both. So thank you for choosing St. Jude and helping open the hearts and minds of more people so more kids around the world can find hope.
Richard C. Shadyac Jr. is President and CEO of American Lebanese Syrian Associated Charities, the fundraising and awareness organization for St. Jude Children's Research Hospital.