St. Jude

Children's Research Hospital proves change begins with faith, trust and purpose

When Olga Kudinenko founded Tabletochki Foundation in Ukraine, she found inspiration in St. Jude founder Danny Thomas.

April 21, 2022 • 2 min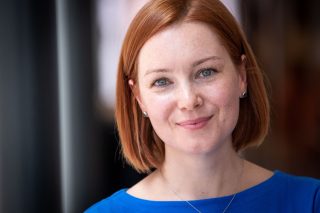 When Olga Kudinenko first heard of the work St. Jude Children's Research Hospital does, she thought, "Maybe this is a legend, maybe this is not real."
Olga was raising funds for Tabletochki Foundation, which she'd only recently founded at the age of 23. Like ALSAC, Tabletochki supports lifesaving research and care of pediatric cancer patients. This was 10 years ago in Ukraine, a country that was only 20 years old at the time. Having claimed independence from the former Soviet Union, there was no culture of formal philanthropy. This was the challenge, among many others, Olga was facing.
Five thousand miles away, St. Jude was celebrating its 50th anniversary and proving to Olga that her dream could come true. And over time, the ALSAC and St. Jude Global Alliance would show her how it might come true.
"Your support to St. Jude is really worldwide and it means so much to kids from developing countries," Olga said recently to an audience of St. Jude partners.
Her optimism is infectious when viewed through the lens of her current situation. In the face of damage inflicted on her country and to her foundation. "In one moment, I don't have home anymore," she said. She told us, "My mind and my soul and my heart are in my hometown."
In Ukraine, the survival rate for kids with cancer is just 50 percent. Olga and her Tabletochki colleagues have a dream and a plan to change that. The challenges have increased exponentially over the past two months, but so has Olga's resolve. Unable to go home at this time, she's on the phone, she says, 95 percent of the time. She checks on families supported by the foundation, on her staff, on her own family.
Olga reminds me of Danny Thomas who, with little more than a dream to change the status quo of healthcare and philanthropy more than 60 years ago, set out on his journey without a roadmap. In the beginning, he was told it was impossible. But Danny, like Olga, chose to put his faith and trust in the empathy of others.
Here in the U.S., especially at St. Jude, service and giving back is a way of life. In countries with little to no resources, that's the stuff of legend. But St. Jude, with all of you, our supporters, by its side, is here to help. Here to help try and raise the overall childhood cancer survival rate from less than 20 percent to 60 percent around the world, and to offer a roadmap to those who wish to join us on the journey.
Olga looks forward, always, toward a day when peace comes and the vision of a new, state-of-the-art pediatric oncology hospital near Kyiv becomes reality. She knows, thanks to St. Jude supporters and the beacon of hope St. Jude represents, that it can be done. That, with faith, trust and purpose, nothing is impossible.
For more information about the Tabletochki Foundation, visit https://www.globalgiving.org/projects/war-in-ukraine-help-children-with-cancer