St. Jude

volunteers help families find hope
Shirley Krcmar has been giving selflessly of her time and energy since seeing Danny Thomas speak about our mission 50 years ago.

September 29, 2021 • 2 min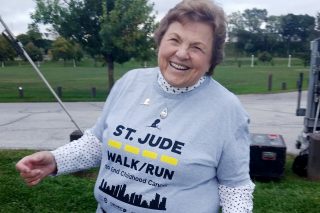 As we bring Childhood Cancer Awareness Month to a close, I want to thank our many volunteers — amazing people without whom our work would not be possible.
In fact, without volunteers there would be no St. Jude Children's Research Hospital at all. That's the bottom line.
From our very founding, when Danny Thomas asked a special group of friends to help build a specialty research hospital to treat children regardless of race, religion or a family's ability to pay, he relied on the generosity of others. We still do today.
Volunteers often take on the St. Jude mission as their own and serve as ambassadors for many years. I want to tell you about a special one of those people: Shirley Krcmar from Medina, Ohio. She's been volunteering for St. Jude for 50 years. Incredible, isn't it?
When the hospital opened in 1962, the survival rate for acute lymphoblastic leukemia (ALL) — the most common type of childhood cancer — was just 4 percent. That's hard to imagine these days because St. Jude research has played a major role in pushing the survival rate to 94 percent. But back then it meant almost every child died. Parents of leukemia-stricken children were told to celebrate half birthdays because their precious children might not live a full year.
Families had no hope.
In 1970, just eight years after the hospital opened its doors, Shirley was in St. Paul, Minnesota, at an Epsilon Sigma Alpha international convention when she heard Danny talk about his dream. Shirley said she was so moved by his desire to give back and his hope for the special hospital in Memphis the speech directed the course of her own life. She's been raising money for St. Jude ever since.
The same year Shirley heard Danny Thomas speak, St. Jude issued a bold statement: "Leukemia can no longer be considered an incurable disease." People like Shirley have helped advance that statement through all these years — with charity luncheons and quilt raffles and golf tournaments, and even pie-baking contests.
Danny Thomas always said he'd rather have a million people give one dollar each than just one person give a million dollars. He understood that millions of small gestures create a force for good. Our volunteers understand, too. The impact is greater than the numbers on a balance sheet. It's a collective commitment to change the world for the better so children with cancer have a chance to grow up and live their dreams.
That's what volunteers like Shirley do for St. Jude kids, during Childhood Cancer Awareness Month and throughout the year, and I'm always struck by their generosity and faithfulness. They give selflessly of their time to help kids and families they will never meet.
The stories of our volunteers are boundless and can sometimes bring me to tears because, as ALSAC President and CEO, I see their impact.
A special thanks to Shirley and our incredible volunteers everywhere whose support makes new breakthroughs possible and gives more kids around the world the chance to realize their dreams. Volunteers who sustain our lifesaving mission and the work that remains to be done, together, until no child dies in the dawn of life.