St. Jude

supporters fuel consistent care and research

When 6-year-old Luxe arrived with severe aplastic anemia at the start of the pandemic, safety precautions in place ensured her care would go on uninterrupted.

November 04, 2021 • 3 min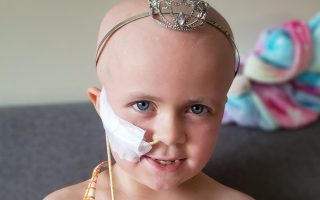 When the pandemic hit, St. Jude Children's Research Hospital implemented health and safety precautions immediately, ensuring the safety of our patients, families and staff.
This is crucial when the unthinkable happens and a child is diagnosed with cancer or other life-threatening diseases. When seemingly mundane ailments such as a loose tooth, scratches or bumps and bruises suddenly become dangerous.
This was the case with Luxe, who was diagnosed with severe aplastic anemia at just 6 years old. Her little body was unable to produce enough blood cells to carry oxygen and fight infection, or enough platelets to respond to dangerous threats to her immune system. A virus would have been devastating. And in early 2020, COVID-19 was in the air.
St. Jude was there, an oasis of calm in the storm as research and care continued.
For kids like Luxe, consistency of care is so important. At St. Jude, she underwent chemotherapy, blood and platelet transfusions and a bone marrow transplant from her 4-year-old brother, Asher.
In moments of crisis, consistency becomes a lifesaver and is possible because of our unique funding model with ALSAC, the fundraising and awareness organization for St. Jude Children's Research Hospital, focused solely on supporting the needs of researchers, doctors and caregivers.
But none of it happens without you — our generous supporters — and we're sincerely grateful. Thanks to Partners in Hope and their gifts of $19 per month, for example, St. Jude can offer the love and care that have been a foundation of ours since 1962. Researchers can work around the clock learning the how and why of some of the most catastrophic pediatric diseases and share that knowledge with peers around the world.
We also have our corporate partners to thank and as we begin St. Jude Thanks and Giving® season, you'll see even more from them as they share St. Jude stories and ask for your help at registers and online.
And then there are friends who take our mission to their audiences with all the heart and soul of true ambassadors. Sports commentator Rich Eisen has been lacing up his shoes for St. Jude for six years with his Run Rich Run campaign, raising more than $4.2 million, including an amazing $1.7 million last year at the height of the pandemic. It's why we were honored recently to name him St. Jude Ambassador of the Year.
St. Jude is embarking on an $11.5 billion strategic plan, our largest investment ever — yes, even in a pandemic — with one goal: impacting more kids worldwide by raising the survival rates of six of the most common types of childhood cancer from less than 20 percent to 60 percent by 2030.
This won't be easy. The scientific research and global outreach happening at St. Jude is complex, yet there is a constant running through it all — you. Our supporters, here with us through thick and thin.
The average single donation to St. Jude is $43. That's a significant number to all of us at ALSAC and St. Jude because it means millions have taken this lifesaving mission to heart. It means no matter what obstacles and challenges come our way, kids like Luxe will have an oasis of safety, security and hope.
This oasis of hope was Danny Thomas' promise to the world in 1962, and it is our obligation, an honor, really, to see it through. Thanks to you.