Sustainable care requires great hearts of compassion
The St. Jude mission is bigger than any one of us; big enough to give hope for generations to come.

April 23, 2021 • 2 min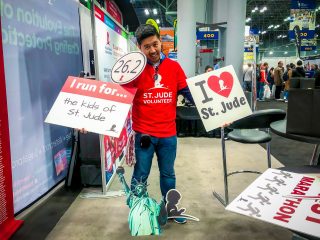 St. Jude Children's Research Hospital is home to one of the world's most powerful superconducting magnets. A million times stronger than the earth's magnetic field, this 1.1 GHz nuclear magnetic resonance spectrometer allows scientists to look more deeply into a cell than ever before.
When the new advanced research center opens on the St. Jude campus this year, the 625,000-square-foot facility will offer collaborative space, 56 labs for 400 people and one of the most advanced microscopes in the world.
And all around the world, those who support this research and technology are magnifying the spirit of our mission by a million.
Because if society is going to make great leaps in technology, it should have the purpose of compassion to drive it.
Jared Isaacman said as much. The billionaire entrepreneur is leading the first all-civilian mission to space aboard Inspiration4, raising funds and awareness for St. Jude in the process. He said, "If you're going to accomplish all those great things out in space, all that progress, then you have an obligation to do some considerable good here on earth, like making sure you conquer childhood cancer along the way."
That sort of thinking has the power to inspire others, like Kayla Anderson, a Colorado teen who planned to ski 70,000 vertical feet as part of a school project. Jared's message about doing something that's greater than yourself resonated with her. She ended up skiing 90,000 feet and raising more than $9,000 for St. Jude in the process.
This idea of service over self is one we see in our countless volunteers, like Kevin Dong a St. Jude volunteer in New York. Despite monumental grief when his father died, Kevin continued to give back, sharing his dad's story to answer the question: Why do you volunteer?
Then there's Donna Herran, a first-generation American with a desire to leave a lasting legacy. She has included St. Jude in her will, ensuring hope and healing for those to come. Donna said, "When I look back on my life, I want to know that I've done something to help. I know in my heart that my support will help a child who is struggling with a terrible disease, and St. Jude may be their only hope."
These are just a few examples, along with all of you, of support for our mission of finding cures and saving the lives of children they don't even know by embracing "an obligation to do some considerable good here on earth."
The mission of St. Jude is greater than any single one of us. It's a mission that only works when we work together, when we magnify its purpose so everyone, everywhere can see the good it does. Thanks to those who carry it aloft and carry it forward, it will inspire for generations to come.