The restorative power of hope and optimism
The health and well-being of children everywhere unites, epitomizes the
St. Jude

mission.

November 13, 2020 • 3 min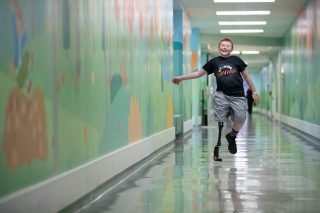 Throughout these months of pandemic, as we've lived with fear and uncertainty and the finger-pointing of a difficult political cycle, I've searched for the positive, for the reason to believe we'll all get through this, together.
I think you can guess where the search led me.
It led to our patients, whose positive attitudes in the face of catastrophic diseases never cease to inspire me. That's the kids of St. Jude Children's Research Hospital, wise beyond their years and brimming with empathy so easily discarded during times of division.
Patients like Mack, who lost his right leg to Ewing sarcoma. He and his siblings gathered around the family kitchen table this spring, drawing pictures and writing letters to send to nursing homes and hospitals.
Patients like Bertha, who has battled bone cancer twice, most recently at St. Jude. She's in college, pursuing a major in early childhood development, with an eye toward a profession that's all about helping kids — Child Life specialist. "I feel like St. Jude has a lot to do with that," she said.
And patients like Mary Browder, a young wise soul who said, "Good stuff comes out of every bad situation." She should know. She was 10 years old when she came to St. Jude with Hodgkin lymphoma. Today she's 17 and excelling as a scholar and an athlete — a high school senior who scored a 34 on her ACT (that's really good!), and is one of the best prep golfers in her state.
Their spirit and optimism takes me back to childhood with my brother, Tom, when our parents talked about the importance of giving back in gratitude for our blessings.
For my family, Danny Thomas' dream of St. Jude Children's Research Hospital came to epitomize that altruistic ideal. And during the turbulent 1960s, I saw the importance of inclusion in Danny's decree that St. Jude would treat kids regardless of race, religion or economic circumstance.
I truly believe the conversation my parents had with me was happening all around the country, in homes of different races, religions and economic circumstances. Giving back to those less fortunate is a gift in itself. This is the unifying spirit behind St. Jude.
Because St. Jude isn't just a world-class research institution. It's a master class in love and caring.
These are the ideals St. Jude was built upon — that we stand shoulder to shoulder, with compassion for all, that together we are an impactful, united force.
This is the power of the collective — that even in the most trying times, the health and well-being of children everywhere restores our humanity.
Our patients and their families, and all of you, our supporters, are what give me hope and remind me what my parents meant when they talked about giving back. Today, there is nothing more uplifting to me than folks who have challenges every day, yet still want to help make a difference in the life of a child.
During times of crisis, giving back looks different to everyone, and that's okay. But we have a duty to those less fortunate to give a hand up when we can. And in doing so, in becoming a collective that cares for kids and families we may never meet, we'll find our purpose, the good in us, and begin to heal.
Richard C. Shadyac Jr. is President and CEO of American Lebanese Syrian Associated Charities, the fundraising and awareness organization for St. Jude Children's Research Hospital.