Timeless words of faith and hope from
St. Jude

Global partner Tabletochki Foundation
When Svitlana Pugach last visited
St. Jude

Children's Research Hospital, she spoke from the heart. Her voice echoes years later, inspiring us all to care for the most vulnerable.

April 14, 2022 • 2 min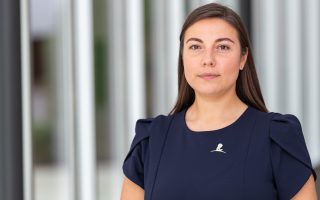 Four years ago, Svitlana Pugach of the Tabletochki Foundation visited St. Jude Children's Research Hospital. A member of the ALSAC and St. Jude Global Alliance, Tabletochki is devoted to supporting pediatric oncology patients in Ukraine. Supplying medicine not available through public resources to 21 oncology units throughout the country, 500 children with cancer relied on the foundation each month for necessary treatment.
That is, until the Russian invasion of Ukraine on February 4. That's when Svitlana left home with only a backpack, passport and a pair of t-shirts. Her neighborhood was hit by a missile. She spent more than a week sleeping on a basement floor, going days without seeing daylight.
She worried about the kids in need then and she worries about them today. But four years ago, during a more peaceful time, she came to St. Jude and talked about "the bravery of families with children with cancer who are not afraid to go through hard times."
She had no idea what was coming. None of us did. But what we did have was a global network of healthcare institutions and foundations — more than 180 of them in 61 countries. A global network of individuals united in the purpose of treating "our most vulnerable members" as First Lady Jill Biden said during her recent visit to St. Jude.
And we have hope.
Svitlana had hope four years ago when she said, "When two people come together united by shared values and the shared dream, anything can happen, and anything is possible. And when two million people share one passion and one dream for no child to die in the dawn of life, no child will die in the dawn of life ..."
A beautiful sentiment. One that reminds me of the wisdom and vision of St. Jude founder Danny Thomas.
Thanks to the more than 11 million St. Jude supporters around the world, a massive humanitarian effort — SAFER Ukraine — coordinated through ALSAC and St. Jude Global, has helped move more than 800 children and their families to safety and to a continuance of their cancer treatment. Eight patients have been brought to St. Jude, along with 21 family members.
This is the power of unity. This is humanity in action, at its best when "the bravery of families with children with cancer" is being tested.
"We cannot do this alone, we need to unite people to gather them around our cause and to work on all levels," Olga Kudinenko, founder of Tabletochki, recently said. "This is part of our job, to find a way to provide the best possible treatment for the kids and for the family so they won't be alone during this journey."
Svitlana was recently reminded of her 2018 visit to St. Jude and of the powerful statements she made then. With everything that's happened over the past two months she remains an inspiration to us all, steadfast in the hope that we, united in purpose, offer the vulnerable: "Even though the Russian invasion has brought so much horror and pain to Ukrainian children, my faith in the future that I had so vividly imagined four years ago is stronger than ever."