When a family's focus changes due to a cancer diagnosis,
St. Jude

is there
A brain tumor was the last thing Jillian expected for her son, who loved the outdoors and had a contagious giggle. Thankfully,
St. Jude

supporters helped lift the weight of worry from her family.

June 09, 2022 • 2 min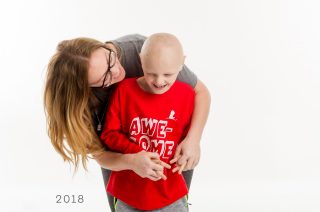 Jillian is a mother of two with all the responsibility and chaos and attention to detail that entails.
In 2018, she was planning holiday get-togethers and festivities. Her son, Alexander, was in the first grade and the family was celebrating his receiving the integrity and friendship award from his elementary school.
Life was stressful, but manageable. It was everything Jillian, or any parent, would expect for a young family.
But that can all change in an instant, can't it?
It did, when Alexander was diagnosed with medulloblastoma, a brain tumor affecting fewer than 500 kids in the U.S. each year. In that instant, the usual volume of worry and anxiety that comes with being a parent was turned up to a roar.
In Jillian's own words, "we officially entered the 'stop-trying-to-plan-ahead' lifestyle. We became a 'take-it-day-by-day, sometimes-minute-by-minute' type of family."
There is no planning ahead when it comes to cancer. Thankfully, Alexander and his mom, dad and sister, had St. Jude Children's Research Hospital® by their side.
They had all of you there by their side to help lift some of the burden from their shoulders.
Their family became part of the St. Jude family. A community of donors and volunteers going back more than 60 years.
We firmly believe moms and dads should have the ability to live in the moment with their child. To become a "day-by-day" family with opportunities to talk and laugh, play together and enjoy each other's company. In this way the spirit is healed, as well as the body.
Alexander went through 30 days of proton radiation and seven cycles of chemotherapy, and you were right there with him. Those must have been difficult, grueling days. Certainly, for Alexander, but also for mom and dad who only wanted for their son what we all want for our children — to be happy and healthy.
It's why amenities such as our patient family housing facilities are so important. Target House. Tri Delta Place. Ronald McDonald House. These are sanctuaries for our families who need a respite from daily needle pokes and MRIs.
We're thrilled that next spring will see the opening of the Domino's Village, a $110 million, 140-unit housing facility right here on our campus.
These amenities, these oases, are only possible thanks to our corporate partners and supporters like you who provide such unwavering dedication to the care and comfort of kids, families and this lifesaving mission. Thank you for all you do, from all of us at St. Jude and from families like Alexander's.