Stars of PGA TOUR, kids of
St. Jude

share the world stage
Abraham Ancer celebrates a championship, and a cause, at World Golf Championships-FedEx
St. Jude

Invitational

August 08, 2021 • 5 min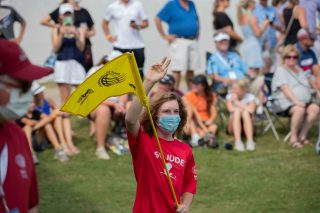 Abraham Ancer of Mexico looked every bit the champion, sinking a clutch birdie putt on the second playoff hole to win the World Golf Championships-FedEx St. Jude Invitational Sunday in Memphis.
Champion of the prestigious PGA TOUR event. And champion of the cause the tournament so devotedly supports — St. Jude Children's Research Hospital.
"It's just incredible what this tournament has done for St. Jude, and what St. Jude does," said Ancer, who has literally walked the walk in his support, wearing FootJoy "We won't stop"-themed St. Jude shoes during part of this year's tournament and FootJoy shoes adorned with patient art throughout last year's event. He said he liked the 2020 shoes so much he asked for another pair.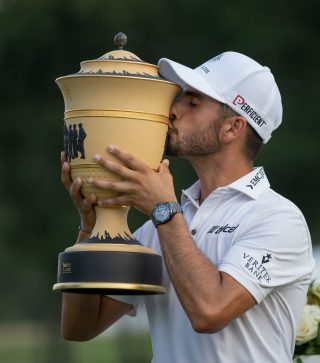 After the pandemic kept fans and patients away from TPC Southwind in 2020, this year felt more like a celebration, albeit with patients masked and safely distanced amid the surge of the Delta variant.
The final groups of the day were greeted on No. 18 green by St. Jude patients serving as honorary pin flag caddies — Kenzie, Nate, Azalea, Reid, Bailey, Quincy and Maelin-Kate. Their presence capped a week in which St. Jude's mission, and its patients, were at the fore.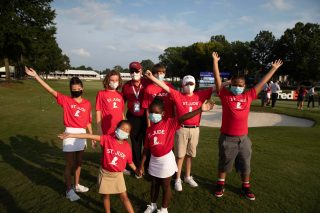 "We are so honored to be able to share this stage, and to be able to bring more awareness to the unbelievable work that's done every single day at St. Jude," said PGA Tour Commissioner Jay Monahan during the trophy presentation. "Unbelievable work that's done in this community. Unbelievable work that's being done for families throughout the world."
Monahan said he was "in awe" of the work done at St. Jude.
It was an uplifting way to end an inspiring week. Here are some more highlights:
Wednesday's Danny Thomas Celebrity-Am drew such big names as actor Patrick Warburton and basketball legend Penny Hardaway, but they happily let the real stars shine — the patients of St. Jude, some playing and others serving as Little Looper honorary caddies.
Azalea, a 7-year-old patient from Jamaica, charmed everyone she greeted as a Little Looper at No. 5. She turned somersaults, hit shots off the tee, called out "posing time!" when group photos were taken, and, when asked to name her favorite basketball player, pointed and said, "Him."
It was Hardaway, the former NBA star now back in his hometown coaching his alma mater, the University of Memphis.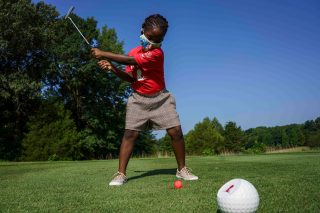 Azalea also took a mini-lesson and high-fived clubs with Mary Browder, 18, a former St. Jude patient and decorated high school golfer who played in the Celebrity-Am event. Mary Browder wore a Sewanee ballcap, repping the college she's just weeks from entering as a freshman and golf-team member. The cap was adorned with a St. Jude pin.
On the brink of leaving her Kentucky home for college, some 200 miles away in Tennessee, she found herself looking back on her journey even as she eagerly looks ahead.
"I've just gained more perspective into what it all means, and just how amazing that place really is," she said of St. Jude. "It's the most wonderful place in the world. It's not Disney World — it's St. Jude. It's a community. You're all in this together."
The event even featured on-course interviews, thanks to former St. Jude patient Jake, 23, an aspiring broadcaster who chatted with such celebrities as actress Jennie Garth, country singer Chris Lane, former Major League Baseball standout Jimmy Rollins, and NBA star Mike Conley.
For Jake, who arrived at St. Jude as a 3-year-old with a brain tumor, it was a particular thrill to talk with Conley. The All-Star guard now plays with the Utah Jazz but is a Jake fave from Conley's days with the NBA's Memphis Grizzlies.
"I'm fan-boying over here, oh my gosh," Jake said in the interview, posted on social media.
Conley, drafted by the Grizzlies in 2007, remembered St. Jude as one of the first places he visited after arriving in Memphis to start his pro career.
"Being able to have that connection from Day One, and to be able to be a part of something so special, and to continue that relationship, has been a very awesome and humbling experience," Conley said.
Patients and crowds return
The golf was amazing. Of course it was. That's what happens when the best in the world get together, over four days of competition.
But the WGC-FESJI also was about those St. Jude moments for which the Memphis stop on the PGA TOUR has become synonymous.
There was Nate, the patient whose pizza-inspired art was used last year on a pair of FootJoy shoes worn by tournament winner Justin Thomas, who then treated Nate to a celebratory pizza. But because of limitations imposed during the pandemic, the two had never actually met in person.
That was remedied at this year's tournament.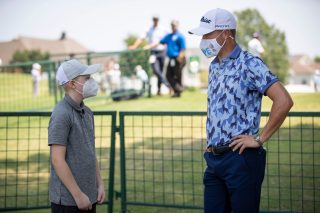 "It was great to meet Justin in person," Nate said. "I had stage fright because of all the cameras but Justin was really nice. I hope he wins at golf like I won against cancer!"
Fans also returned to TPC Southwind after the pandemic restrictions last year. A nice-sized gallery on Thursday could be found between the driving range and No. 18 green — in a tent beside a FedEx Cessna Caravan plane.
They gathered to see St. Jude patient Kenzie, 17, honored as this year's Purple Eagle patient, a program in which a plane features the name of a child or grandchild of a FedEx team member. Kenzie's father, Michael, is an aircraft mechanic at FedEx Express.
It was the ninth year FedEx has named a plane for a St. Jude patient, and …
"I'm grateful to tell you that all nine of our FedEx Purple Eagle children are well and thriving," said Bill West Jr., vice president of supplemental aircraft operations at FedEx Express. "Thank you, St. Jude."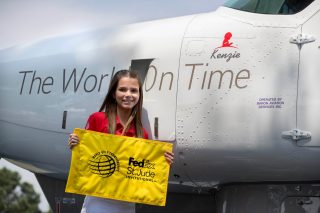 Kenzie was diagnosed with acute lymphoblastic leukemia in October 2017 and completed treatment at St. Jude in 2020. Now she's back home, a rising high school senior, an honor student who already has 27 hours of college credit.
And, she knows what she wants to do with her second-chance life.
Kenzie hopes to be a nurse at St. Jude.
The Memphis stop on the PGA TOUR has had St. Jude as its sole beneficiary since 1970, when the event was called the Danny Thomas Memphis Classic, a tip of the golf cap to the founder of St. Jude.
Along the way, FedEx joined as sponsor, helping drive the amount raised for St. Jude in tournament history to more than $50 million.
Memphis. FedEx. The PGA TOUR. St. Jude.
They've been quite the foursome. And next year, they'll be together again when the tournament morphs from a World Golf Championships tournament to the opening event of the FedExCup Playoffs. The new name for 2022: the FedEx St. Jude Championship.
The move has been hailed as a boon for the tournament, and thus for its charitable beneficiary, which can be showcased on an even larger global stage.
And for St. Jude, its patients and families, that means the world.