First Lady Jill Biden visits
St. Jude,

highlights research and global outreach
"You offer healing and hope," Dr. Biden said after meeting with Ukrainian evacuees receiving cancer treatment at
St. Jude

.

March 25, 2022 • 3 min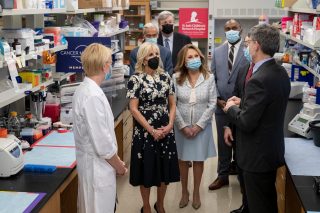 On her first visit to St. Jude Children's Research Hospital, First Lady Jill Biden met 5-year-old Khrystyna from Ukraine, who escaped war in her homeland to continue the fight against her brain cancer diagnosis.
The encounter, Dr. Biden said, helped her see the reach of St. Jude's global humanitarian effort to improve cancer outcomes for children around the world, but also the potential impact of research unfolding in the lab she had visited Friday afternoon.
Amid the whir of laboratory equipment, she learned of St. Jude scientists' work to harness the power of the immune system to find and destroy evasive tumor cells in cancers just like Khrystyna's.
"You offer healing and hope, care and community, a place of refuge for those facing the worst," she later said to a crowd that included employees of St. Jude and ALSAC, the fundraising and awareness organization for St. Jude, childhood cancer survivors and local civic leaders.
St. Jude National Outreach Director Marlo Thomas introduced the First Lady, recalling the vow her father, Danny Thomas, made when he founded ALSAC and St. Jude.
"Engraved at the entrance are his words: No child should die in the dawn of life," she said. "And he didn't mean no American child. He meant no child. Anywhere. How proud my father would be to see the hospital he founded deliver on that promise today."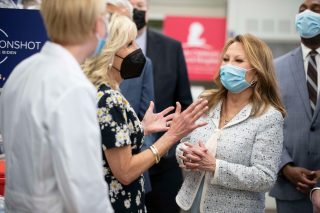 Dr. Biden's visit continues a tradition of visits by Presidents, Vice Presidents, First Ladies and presidential families from both parties since the 1970s. Dr. Biden also met with childhood cancer survivor Katherin Aristondo, who told the First Lady of the full scope of supportive services provided to her and her family six years ago when she was in treatment at St. Jude. The research hospital provided housing, travel costs, educational services and more at no cost to Katherin or her family.
"One of the hardest things about a cancer diagnosis is that paralyzing sense of helplessness," Dr. Biden said. "But here at St. Jude, hearing about so many cutting-edge approaches to this disease, we are reminded we aren't helpless. We are living at a time of incredible possibility. I'm just so inspired by all the things happening here."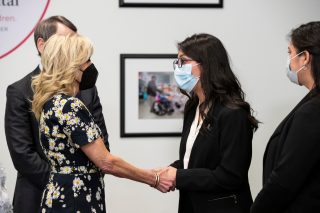 Khrystyna, who came to St. Jude along with her older brother and mother earlier this week, was one of four Ukrainian children with cancer to arrive at St Jude to continue treatment that was disrupted by the Russian invasion of Ukraine. Over the last month, more than 730 critically ill children have been moved to safety and placed in cancer treatment centers all over Europe, Canada and now America in the arrival at St. Jude in a massive effort known as SAFER Ukraine, in which St. Jude has played a key role.
"When I learned that St. Jude was working with hospitals in Europe to bring some of the Ukrainian children with cancer and their families here, I felt so proud and I wanted to join you in welcoming them," Dr. Biden said.
In addition to meeting families from Ukraine, Dr. Biden toured a Bone Marrow Transplantation and Cellular Therapy lab, where she learned how basic science research translates to less toxic and more effective care for children with cancer.
"I think Dr. Biden was excited to realize that we take care of the patients of tomorrow, not just those in the beds today," said Charles Roberts, M.D., Ph.D., Executive Vice President and Cancer Center Director of St. Jude.
The First Lady's visit comes just weeks after President Joe Biden revived the Cancer Moonshot initiative, an effort that could help bolster the kind of research St. Jude is spearheading in pediatric cancer and development of immunotherapies. The Cancer Moonshot aims to accelerate research and care "to end cancer as we know it," Dr. Biden said.
"It's about listening to patients, survivors and families," she said, "and finding new ways to ease the burdens they face and delivering new effective treatments that turn a diagnosis from a moment of devastation into hope."