St. Jude

welcomes second group of pediatric cancer patients from Ukraine
A plane chartered by
St. Jude

brought children from Ukraine to Memphis to continue medical treatment disrupted by the Russian invasion.

March 29, 2022 • 4 min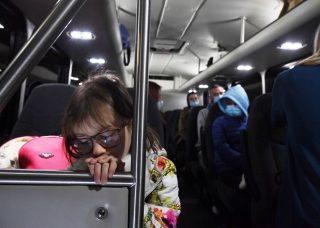 Four more children with cancer along with 11 family members who escaped war-ravaged Ukraine arrived last night at St. Jude Children's Research Hospital to resume their treatment, after an exhausting trek spanning two continents, an ocean and more than 5,000 miles.
The group arrived Monday from Poland aboard a jet chartered by St. Jude. Like many refugees, they traveled hundreds of miles to escape Russian bombs and cross the border into Poland. But these families also traveled with a critically ill child with cancer.
In the five weeks since the war began, St. Jude has leaned on long-established global partnerships in the region and sought help from dozens of advanced pediatric treatment centers throughout Europe and Canada. Known as SAFER Ukraine, the humanitarian effort has assisted more than 730 patients and provided safe passage for childhood cancer patients and their families out of Ukraine.
"St. Jude Children's Research Hospital, through our Global Alliance of 182 institutions in 61 countries, is uniquely positioned to bring the world together to address this humanitarian tragedy," said St. Jude President and CEO James R. Downing, M.D. "Our ongoing commitment is to ensure children with cancer around the globe have access to lifesaving care. We are honored to help these families resume their children's lifesaving treatment in safety."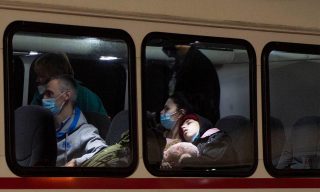 The effort includes translating medical records and coordinating convoys from Ukraine to the Unicorn Marian Wilemski Clinic in Poland, a triage center. There, patients are medically evaluated and families can rest before being transported to an expanding network of the best cancer centers in Europe, Canada and St. Jude Children's Research Hospital in the U.S., which welcomed an initial group of four Ukrainian patients and 10 family members last week.
Organizers have sought to keep patients as close to home as possible to minimize disruption to their lives, but factors such as decreased clinical space availability and advanced patient medical needs can require sending children farther from home.
It's a global rescue mission that ties into the principles upon which St. Jude was founded.
"My father, the 10th child of impoverished immigrants from Lebanon, founded St. Jude Children's Research Hospital 60 years ago around his belief that no child should die in the dawn of life. And he didn't mean no American child. He meant no child, anywhere," said St. Jude National Outreach Director, Marlo Thomas, daughter of St. Jude founder Danny Thomas. "I was deeply moved by the bravery of the Ukrainian mothers I met last week. Their babies are the reason we built this place."
The latest group of children, who range in age from 6 to 17 years old, were met at Memphis International Airport by translators and staff who immediately brought them to St. Jude to begin medical assessments.
The group of patients and families that arrived Monday, like the ones who arrived last week, will receive the comprehensive medical care they need, along with supportive services like housing and psychological counseling to help address social, emotional and cultural needs as they begin to rebuild their lives so far from home — all at no cost.
Last week, after meeting the first group of Ukrainian families and patients to arrive in the United States, First Lady Jill Biden praised St. Jude for offering "a place of refuge for those facing the worst."
The children and families made harrowing journeys, fleeing bombed villages and ravaged city centers in convoys of buses and trains that ferried them to safety at the newly established Unicorn Clinic triage center in Poland.
After medical assessments are complete, staff at the 190-bed hostel-style hotel try to make the families comfortable. They speak Polish and the evacuees speak Ukrainian, so they communicate through the universal language of food.
Children who've been both bored and terrified — in hiding and on the run from war — somehow find each other in little pockets to play.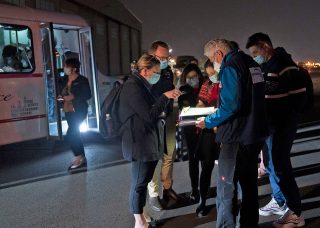 When it's time to leave, families board a bus with whatever they've carried and head to the nearest airport to meet a government-supported plane from the country where they're traveling or in this latest case, a plane sent to Poland by St. Jude.
This second group headed for Memphis made a stop in Belgium, then Dulles in Washington, D.C., and finally arrived in the city St. Jude calls home.
"Our supporters and partners have helped ensure that hundreds of Ukrainian children with cancer and catastrophic diseases make it to safety, where they can continue their lifesaving treatments and find hope," said Richard C. Shadyac Jr., president and CEO of ALSAC, the fundraising and awareness organization for St. Jude.
The Ukrainian families who arrived last week have begun a slow, tentative journey to stability, but two mothers spoke openly last week of how panic and fear sparked by war continues to haunt them even in Memphis, 5,200 miles from missile strikes and air raids. They vividly and emotionally described what they escaped and the hope they cling to now that they're here.
One mother, Natalia, who is in Memphis with her 8-year-old son, Bogdan, had to leave her husband and two teenage daughters behind in western Ukraine. She nervously tracks their safety through an app on her Ukrainian cell phone, listening for air raid warnings throughout the night rather than sleeping.
"We are away from war, away from Ukraine. My son is safe. However, my soul is hurting. My heart is breaking for my children back at home," she said through an interpreter. "Now I am here with one purpose — to cure my son."
After hearing stories like Natalia's, millions of St. Jude supporters have been touched by the resilience and courage of the families fleeing Ukraine, said Tony Thomas, St. Jude/ALSAC board member and son of Danny Thomas.
"Their support ensures we are able to provide hope to children with cancer and catastrophic diseases around the world now and in the future, especially in times of war and great need like this," he said.