Salvadoran teen organizes bake sale in Canada and hosts movie premiere to benefit
St. Jude
Isabella Ramos-Berdugo, the first international student to become a member of the
St. Jude

Leadership Society, finds new ways to help raise funds for

St. Jude

where her childhood friend was treated

September 19, 2023 • 4 min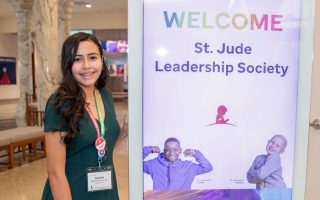 St. Jude Children's Research Hospital® is never far from Isabella Ramos-Berdugo's thoughts and heart.
When the teenager, who lives in El Salvador, was accepted into a month-long high school exchange program in Canada in 2023 she took it as an opportunity to share the St. Jude mission with a new audience.
"St. Jude is a part of me," she said.
When she boarded her flight to Calgary, she was in her second year of raising funds as a member of the St. Jude Leadership Society. SJLS is a membership organization for high school students who share strong leadership skills and a desire to give back to others.
During her first week of school in Canada, she approached the school principal about her idea for a fundraiser to benefit St. Jude. The principal asked her to put her proposal in writing. Isabella did. A few days later she received the OK to hold a bake sale at dismissal time.
As she stood near baked goods, which were donated by her host family, she told everyone who stopped by her table about her personal story with St. Jude. The research hospital had treated her childhood friend Diego, who was diagnosed with acute lymphoblastic leukemia. Diego, who also lived in El Salvador, died on New Year's Day in 2019.
Isabella, 15, talked about the St. Jude mission to advance cures for pediatric catastrophic diseases through research and treatment.
She sold more than 200 chocolate chip cookies and brownies that June afternoon, a day before she was scheduled to return home. She said several people, moved by her story, gave her $20, $50 and even a $100 donation. She collected around $1,200 from the bake sale.
"This has made me so emotional," she said a few days later. "I'm so completely grateful with this beautiful and generous community in Calgary, because they united to help."
Honoring Diego
Isabella learned about the St. Jude Leadership Society from Diego's mom, Grethel. As she learned more about the work of St. Jude — and that families never receive a bill from St. Jude for treatment, travel, housing, or food — Isabella committed to becoming an SJLS member. She wanted to tell the people of El Salvador what St. Jude had done for Diego.
Isabella was accepted at the start of 2022 and was the first international student to participate in the program. She quickly went to work.
Isabella, who has her own podcast, did interviews for media outlets in El Salvador, including radio and a newspaper. She spoke of St. Jude and Diego and what he meant to her. She also spoke about the events she was organizing and invited listeners and readers.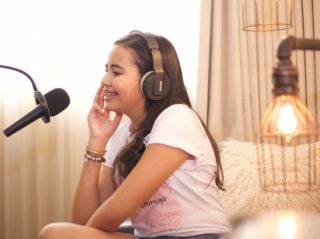 The first fundraiser was breakfast at a hotel owned by her parents. The event, where attendees dined on typical Salvadoran food, raised more than $800.
Later, a local farm called "La Tierra," located about a 45-minute drive from the capital of San Salvador, agreed to donate all its admission fees for one day. The third event was a health conference titled "Healing Wounds." Isabella raised $2,800 for St. Jude her first year.
After visiting the St. Jude campus in the summer of 2022, and hearing more about the work being done there, Isabella aimed to raise more her second year.
A movie premier to benefit
St. Jude
Isabella wanted her first fundraiser in 2023 to be different. One of her favorite things to do is watch movies, and she had been pondering the idea of holding some type of movie fundraiser for St. Jude.
She asked her mom, Sugey, for help. Sugey was supportive but thought her daughter's idea was going to be a hard one to pull off. There was so much to consider, Sugey remembered telling Isabella.
How much would it cost to rent a movie theater for a day? Would they get enough people to attend to cover the theater rental and raise money? How much could they charge for tickets to make it worthwhile?
In El Salvador, where the median salary is $18,900 a year or $1,575 a month, a $10 movie theater ticket was a lot to ask people to pay, Sugey reasoned.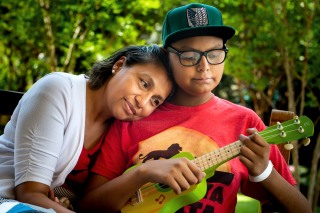 Isabella was not deterred. With her mother's guidance and encouragement, she called representatives of local movie theaters. Somehow, she was able to connect with a district manager of one of the larger movie theater chains. They scheduled a Zoom meeting, and Isabella began to prepare her pitch.
"My mom said, 'This is your story, and you have to figure out the best way you are going to tell it,'" Isabella recalled.
On the day of the presentation, Isabella was prepared. She had written her talking points. She spoke about Diego and the wonderful person he was. She also talked about St. Jude and all it did to treat Diego and other children like him.
Afterwards, the district manager quickly said he was on board and agreed to provide the movie theater for free on a Saturday afternoon. Isabella set out to sell near 150 tickets with the proceeds to benefit St. Jude. She called businesses in the area, with a new presentation on hand, and convinced managers and owners to buy several tickets for their employees. She sold the bulk of the tickets that way, and then sold the rest to family and friends. She collected around $1,800 from the movie premiere.
Isabella raised $3,000 in total from the movie event and the bake sale her second year as a member of the St. Jude Leadership Society.
"I've always believed and said that one doesn't have to be an adult to change the world, you could start at a young age," Isabella said
What to start your own
St. Jude

fundraiser or know someone who might?