Supporting
St. Jude

makes teenage brothers feel "like superheroes"
Amir and Damian Carrizosa are believers in the mission of
St. Jude

. They want to make a believer of you, too.

September 15, 2023 • 5 min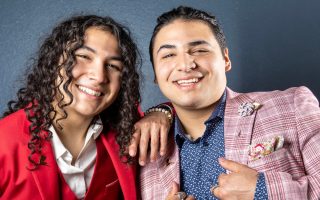 Amir Carrizosa and his brother, Damian, love superhero movies, and they love how supporting St. Jude Children's Research Hospital makes them feel. Like superheroes.
Not like the solo hero who goes it alone, but a team that works together to tackle villains for the good of the world.
The teenagers even wear super suits.
Amir's suit is pink plaid with a raspberry vest over a patterned navy dress shirt and muted pink tie. Damian wears a red three-piece suit, with a buttoned vest over a white dress shirt and narrow black necktie.
They wear St. Jude logo pins on their lapels.
"When I put this suit on, I know I'm doing something big," Damian said. "Something bigger than me."
Amir, who's 18, and Damian, 17, started their volunteer work for St. Jude in 2021 when they joined the St. Jude Leadership Society, a program for teenagers to learn about leadership, service and how to make meaningful connections.
But the brothers' interest in making a difference in their community started long before that.
"We've always been really active in wanting to help people out," Amir said.
They live in Arizona, where their dad, David, is an entrepreneur and community activist who helps Latinos grow their businesses and aspiring entrepreneurs to get started. He raised his sons with his belief that the success of communities depends on the wellbeing of each individual.
"If I have a Lamborghini and I'm going 200 miles an hour – that's fun – but it's a whole lot less fun if my friends fall behind," Amir said. "It's why we have to bring everyone along together. The whole community."
That's superhero talk.
'We are stronger together'
As part of the St. Jude Leadership Society, teenagers meet monthly with mentors, business and community leaders for sessions inspired by St. Jude founder Danny Thomas that focus on gratitude, grit, integrity, empathy and courage.
Participants also explore career paths and hone communication skills. They use what they learn to come up with a fundraising strategy to benefit St. Jude.
In the brothers' cohort, teenagers held yard sales or washed cars for donations. Neither brother relished the idea of doing manual labor in Arizona's heat.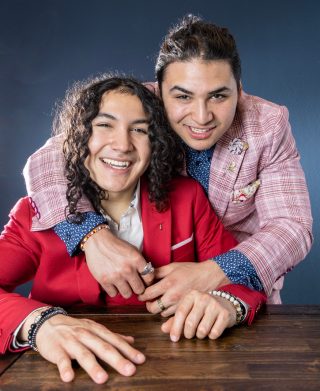 Their mom often told them, "Work smarter, not harder." How could they use their energy for the best outcome?
The brothers knew from their dad's work the power of leveraging a network of people.
"Think about what one person can do, and then imagine what you can do with so many more people," Damian said. "There are people who want to help. They want better for our communities."
The brothers teamed up. Just 17 months apart in age, they have always been close. They think alike, instinctively knowing what the other is going to say next. Amir is outgoing and chatty; Damian is more reserved, reeling in his brother when he lays it on too thick.
"My strengths pick up his weaknesses and his strengths pick up my weaknesses," Amir said. "We are stronger together."
Getting to 'yes'
The brothers put together a pitch for St. Jude, using what Damian had learned in his English class about the three modes of persuasion: ethos, logos and pathos. Damian, who wants to be an investment banker, is taking college courses while in high school.
Ethos meant they'd need their audience's trust. From the time they were little, their dad taught them that first impressions are important.
"It does draw attention – this guy is wearing a suit – what is he proposing to us?" Damian said. Wearing the suits gave them credibility.
"It shows that not only do we want to help the community, but we are gentlemen, too," Amir said.
Logos meant appealing to donors' logic and assuring them that St. Jude was a good investment, citing statistics and talking about new research and treatments.
For pathos, the emotional appeal, the brothers collected stories about the kids of St. Jude. Those stories hit hard.
"That message doesn't just get to them. It goes through them," Damian said. "It touches their hearts."
It can be hard to ask for money, but not when it's to help save kids' lives.
"The worst that can happen is they say no," Damian said. Sometimes it takes 10 nos to get one yes.
"You want to get that yes," Damian said. "It tastes good."
That first year, the brothers put on their suits and made their pitch to a local business chain, asking if customers could round up at the cash register to donate to St. Jude. The owners agreed, and the brothers collected $700 in donations.
Amir also put out a donation jar at the ice cream parlor where he worked after school and collected $400. At school, Amir put donation jars in his classrooms and asked students to donate, raising another $100.
It felt good, the brothers said. They were making a difference.
"It inspired us to do more," Damian said.
Being brave and asking

The next year, in 2022, the brothers made their pitch to the Hispanic Rotary Club of Phoenix. It was an intimidating group of Latino professors, business owners, lawyers, even a hospital CEO and a college provost.
They were nervous, but Damian remembered what their dad told them: "Being brave isn't not being scared but being scared, overcoming the fear, and doing it anyway."
They took deep breaths, straightened their ties and fired up their presentation. "We've got this, bro," Amir said.
They did the presentation in a combination of English and Spanish and showed a video in Spanish about St. Jude patient Lucas, who's from Chile. Diagnosed with a brain tumor at 3, he's now 10 and cancer-free.
"With your help, St. Jude can save more kids like Lucas," Damian told the group.
Because the brothers are Latino, they understand the struggles of the Hispanic community and the barriers they face.
"Even though we struggle," Amir said, "we have to help others who struggle as well."
The brothers collected about $1,200 in donations.
"That just shows what you can do," Amir said. He's studying electrical engineering in college, focusing on nanotechnology.
Sometimes, when things are wrong in the world, young people can feel helpless to do anything about it. Maybe they can't cure childhood cancer, Damian said, but they can support the doctors and researchers at St. Jude who are trying.
"I like to think if there is something wrong, there is always something you can do to help," Amir said. "Always."
The brothers are convincing.
"We are true believers in the mission of St. Jude because in the battle against childhood cancer, St. Jude has increased the survivability rate from 20 percent the day they first opened to above 80 percent today," Damian said.
"Which provides a ton of hope for families," Amir said.
Amir talks about how St. Jude shares its discoveries, so every child saved at St. Jude means doctors and scientists worldwide can use that knowledge to save thousands more.
Damian chimes in how families never receive a bill from St. Jude for treatment, travel, housing or food — so they can focus on helping their child live.
"As St. Jude Founder Danny Thomas stated: 'No child should die in the dawn of life.' That's what we want, too," Amir said. "We want children to have a chance to grow up and become their own superhero."
What to start your own
St. Jude

fundraiser or know someone who might?