There are lemonade stands, and then there's Wyatt's Lemonade on the way to Sturgis
This South Dakota kid turned local celebrity has raised more than $73K for
St. Jude

.

September 15, 2023 • 3 min
In the beginning, all Wyatt Dennis wanted was a Lego set, specifically a 500-piece space-themed set with a launch pad. It cost about $100.
Fine, his folks said, if he earned the money.
Wyatt lives with his parents, Robin and Devin Dennis, in South Dakota, on a road that leads to the massive motorcycle rally in Sturgis, South Dakota. He'd sell lemonade to bikers, he decided. No, his mother Robin advised, ask for donations.
Being 7 years old and adorable, Wyatt raised $700 without breaking a sweat.
"My parents said, 'You're not spending $700 on a Lego,'" Wyatt recalled.
He set aside some for college, spent some on his new toy and donated some to a charity of his choice.
One of Robin's friends regularly participates in a race in Illinois that raises money for St. Jude Children's Research Hospital, so, Wyatt chose St. Jude.
Three years later, Wyatt is now a local celebrity because of Wyatt's Lemonade and has raised more than $73,000 for St. Jude.
"It makes me feel good that other kids are being helped to where they're happy again," said Wyatt, who sports a bright blue mohawk.
Families never receive a bill from St. Jude for treatment, travel, housing or food – so they can focus on helping their child live. When St. Jude opened in 1962, childhood cancer was considered incurable. Since then, St. Jude has helped push the overall survival rate from 20% to more than 80%.
Devin and Robin knew that $700 from a lemonade stand was pretty good money. But when they opened it in 2021, a woman enroute to the motorcycle rally asked if she could post about Wyatt on social media. One of her followers shared the posts and from that came 64,000 shares, Devin said. When another man posted a picture on his page, it was shared 341,000 times over a 40-week period.
Wyatt's Lemonade is now a destination, Robin said.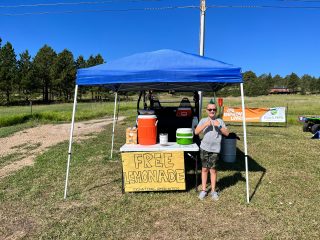 "For me, one of the coolest things is it hasn't changed who he is. Wyatt's always been very caring," she said. "For a parent, it's just neat to see he still has that caring heart, he still wants to give, he doesn't want to keep everything for himself and that he gives back to the community."
So much of this can be credited to the biker community.
"When you see those big bad burly bikers— tats head to toe, long beard, rough and gruff— and he gets off his bike and gets handed a simple glass of lemonade, and when he leaves, tears are pouring down his face. It makes a parent proud. I don't care how tough they are. They love to help," Devin said.
Wyatt now has corporate sponsors who give donations, pay for banners, signs, cups and lemonade supplies. With so many people wanting to help, donations come in from other events as well, like a recent tattoo raffle.
Wyatt's gotten local and national news coverage and hosted local St. Jude Radiothon fundraisers.
"Just about everybody around here knows about Wyatt's Lemonade," said Jim Kallas, an area radio station general manager. "I think a lot of the locals come and visit him during the motorcycle rally, too. And he's out and about doing different events and appearances and stuff. He's pretty much a celebrity around here."
The community has been a long-time supporter of St. Jude. They're planning their 12th radiothon, he said.
"I think so many people around here give to St. Jude because our local doctors have all of the information at their fingertips if they need it," Jim said.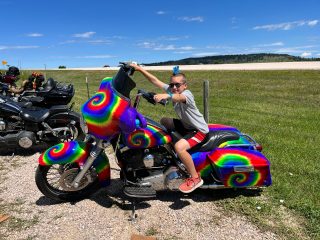 St. Jude shares new treatments with healthcare providers across the country and around the globe.
"The work they're doing is showing up everywhere" he said.
Wyatt is a "rockstar" and couldn't be a better ambassador for the St. Jude mission.
As in years past, there have been bikers from all 50 states. This year, there were representatives from 11 countries.
Wyatt is pumped to see everyone. But he especially appreciates the opportunity to speak with parents whose children have had cancer.
"It makes me happy to know that I've helped," he said.
What to start your own
St. Jude

fundraiser or know someone who might?