15-year-old soccer player celebrates being home from
St. Jude

with those who cared most: her entire Illinois town

Through a series of kind acts, Tessa's hometown showed her she was out of sight, but never out of mind during cancer treatment.

December 20, 2021 • 6 min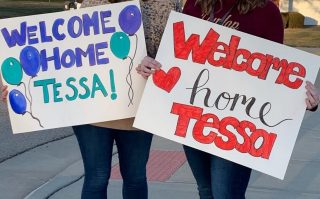 Tessa and her parents were away from their Illinois home for more than three months while the 15-year-old underwent treatment at St. Jude Children's Research Hospital. And you can tell when a house has been abandoned by the shaggy look of the grass or a stack of waterlogged newspapers on the front porch, can't you?
They had no idea what to expect when they finally got home.
But when the family pulled into the driveway on Dec. 3, their Christmas lights were hung, their lawn was mowed and edged. Everything looked well-maintained even though they'd been gone since late August.
Their team of helpers — which had grown to include almost everyone in town — had been hard at work, and it showed.
Tessa breathed and took a moment to absorb everything.
"I slept a little bit when we were further away from home, and as we got closer I got more and more excited," said Tessa.
More than anything, she had missed "just seeing all my family and friends," such as her 1-year-old nephew, who has "the best smile."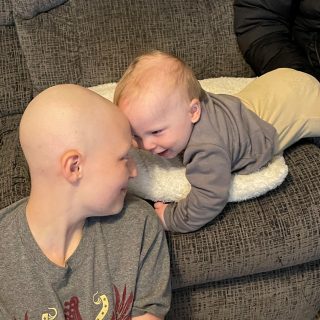 She had missed other things, too — strange things, unless you'd grown up here. Like her favorite pizza from the local pizza parlor.
"It has hamburger meat on it and lettuce, and then instead of tomato sauce it's Thousand Island. It tastes really great," said Tessa. "I've never seen it anywhere else."
Home had never looked so good. It had never been so missed.
Here in this central Illinois town of fewer than 1,500 people, Tessa was a fixture of her community, known for her talent on the soccer field.
But then a pain in her side that wouldn't go away — "At first, we're thinking, OK, you bruised a rib, you got elbowed in a game," said Tessa's mom, Michelle — became a screaming pain and something she could no longer ignore.
On May 27, 2021, came a trip to urgent care and, later, a startling diagnosis from the nearby Jim and Trudy Maloof St. Jude Midwest Affiliate Clinic in Peoria: She had an extraskeletal osteosarcoma, a tumor in her chest wall that behaved like bone cancer even though it wasn't actually attached to a bone.
"When I heard 'oncology,' 'St. Jude,' 'PET scan,' the words started to run together, and I felt like I would collapse," wrote Michelle on a Facebook page she set up in June to keep loved ones informed about Tessa. "It was like being punched in the stomach. I could barely breathe."
Suddenly, Tessa and her family had to face the prospect of surgery, chemotherapy and proton radiation therapy to make her well. Maybe hardest of all, though, was a trip far from home to St. Jude in Memphis, for part of her treatment.
The greatest people on earth
At a time when she felt like she needed home most, she was leaving it.
The people in her town were also shaken to the core. Of course, that happens whenever a small town faces the prospect of losing one of their own.
But instead of sending their sympathies, they stepped up. And that's how Tessa and her family realized their town was filled with some of the greatest people on earth.
People who would mow her lawn week after week to keep it looking tidy.
People who would climb on a ladder in the cold so Tessa could come home to Christmas lights.
People like the man who lived next door. As Tessa's mom gathered things to bring inside on the afternoon they came home, she glanced over and saw a sign in his yard that read, "Welcome Home Tessa."
"Sweet thing about that is he is an elderly, recently widowed gentleman who has been very upset about Tessa's diagnosis," said Michelle.
He'd been next-door neighbors with Tessa's family long enough to have experienced another Tessa homecoming — her homecoming from the hospital, just after she was born. And on countless occasions, down through the years, he had looked out his window and seen Tessa chasing one of her four older siblings, Tessa walking with her friends or Tessa dribbling a soccer ball.
Tessa living her life.
She was special to him, so he'd gone to the store to buy a poster board so he could welcome Tessa home.
As soon as Tessa was diagnosed, people from all over town, from all walks of life, pitched in.
Her teammates began wearing Tessa's name on their soccer jerseys.
Her soccer coaches started a fundraiser for the family with a goal of $20,000 and a big incentive: If the coaches reached their goal, they'd go bald for Tessa.
Did they meet their goal? Blew right through it.
So her high school coach shaved his head for Tessa. And because her club team coach was already bald, "his wife stepped in and volunteered to do it," said Michelle, "which I was shocked."
One day, Tessa picked up a box from the St. Jude mailroom that contained 36 individually wrapped gifts. Her club team had sent them so she'd have one present to open for every day of proton radiation therapy.
The cards and gifts kept coming. There were visits, too.
The woman who'd marshalled everyone to do the lawn mowing was a soccer mom who defined the expression "above and beyond."
"She actually drove down with her daughter and another girl just to surprise Tessa a few weeks ago, just out of the blue, just to surprise Tessa and spend the evening with her, and then drove back," said Michelle.
Fourteen hours of driving just for a few hours of togetherness. It did wonders for Tessa's morale.
It didn't stop with friends. Several athletic teams in the area sent cards, well wishes and presents.
The soccer team at the local Catholic school held a St. Jude fundraising day. They raised $25,000, dedicated to Tessa, and sent a video to let her know.
At the end of the video, the girls join together to say: "This is for you, Tessa!"
Michelle doesn't cry when she describes the major thoracic surgery Tessa underwent at St. Jude to remove her tumor, although she describes those hours of waiting as some of the longest moments of her life.
But this video, and the kindness of those girls, makes her cry, because "that's not even her school."
"Sometimes she almost feels guilty about all the support she's getting. She says, 'I don't deserve this,'" said Michelle. "But of course, she does."
Four years ago when Tessa was only 11, and long before she got sick, she ran a 5K in the St. Jude Peoria Walk/Run to help the kids at St. Jude.
She had known a child in her grade school who had cancer, and being the empathetic girl that she is, she wanted to do something.
In the photos from that day, her cheeks look rosy and her long, brunette hair shines.
She couldn't have known that in a few short years she would be the one who needed help.
Her mom posted the photos on Sept. 23, 2021, a few days before the St. Jude Walk/Run, writing: "Four years ago, as an 11-year-old, she was running a 5K for St. Jude in 23 minutes. Today she is lying in bed at St. Jude Memphis with 2 chest tubes and working with PT just to stand for a few minutes and exercise her legs a bit. Never in a million years did I see this happening. You just never know what life is going to throw at you. SO thankful for St. Jude and know she is in the best hands..."
Tessa has three more months of chemo, which she'll receive at the Jim and Trudy Maloof St. Jude Midwest Affiliate Clinic in Peoria. But the part of her treatment that needed to take place so far away has finally ended.
She's weaker than she's ever been, yet determined to get back on the soccer field.
The goodwill still overflows.
A soccer trainer has offered Tessa's family his expertise free of charge to help her build her strength and skills back up, just as soon as she's ready.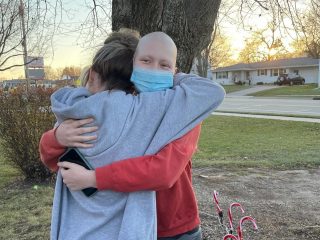 She may not be playing soccer right now, but she knows she's still part of the team. No question. Because on the day Tessa got home there was one last surprise from her high school soccer team.
"On our block, a ton of girls from school, like right when they got out of school, they lined by my driveway and brought signs and gave me a ton of hugs," said Tessa.
"TESSA IS HOME," one of the posters read. Underneath that: "#BestDayEver #BestGiftThisYear #Fighter #StrongerTogether"
That night, Michelle posted photos from the day to Tessa's page with these words, "My heart is full."
And how does all of this make Tessa feel?
"Happy," Tessa said simply, adding: "To be home."