A promise fulfilled: honoring a friend as a
St. Jude

Hero
Luis Fortin is determined to run every year, inspired to raise funds for
St. Jude

Children's Research Hospital in memory of his friend.

July 08, 2022 • 4 min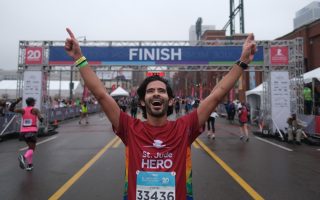 English | Español
They were boys, sharing the same name and living in Tegucigalpa, the capital city of Honduras, surrounded by mountain views and colonial architecture.
Luis Fortin was the new classmate in a third-grade class at a bilingual school. Luis Enrique was already a student there. They became friends, and years later would often get together on weekends or when they were looking for things to do.
"He went to my house and we got into trouble together," Fortin recalled with a laugh.
In 2010, when Luis Fortin was 18 years old, he moved to Chattanooga, Tennessee, to join his mother who had moved to the United States earlier. Fortin enrolled in college to pursue a degree in chemical engineering.
Months later, he heard from a friend in Honduras: Luis Enrique was also in Tennessee, but for very different reasons.
He was a patient at St. Jude Children's Research Hospital, being treated for bone cancer.
Luis Fortin and Luis Enrique connected via social media and made plans to see each other. Fortin made the five-hour trip from Chattanooga to Memphis, one he would make several times over the next four years.
During visits, they would spend hours at local parks and at restaurants trying different foods while they talked about their lives and the challenges of adjusting to the customs and traditions of their adopted homeland. They missed their friends and the lives they led in Honduras, but when they shared time together, they relived those moments.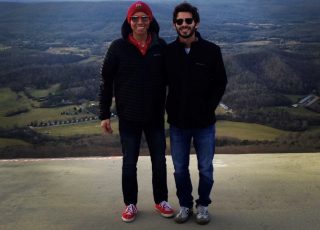 "It was very easy to remember the good times in Honduras," Fortin said. "When I visited him, it was like having a piece of home closer to me in Chattanooga."
Fortin explored Memphis with Luis Enrique, who had fallen in love with the city while he received treatment. Some days, they drove around, sightseeing with the windows down, music blaring and taking selfies to send to friends back in Central America. For hours they forgot their worries and lived in the moment.
"He took me to the lake, he liked to take me to the zoo," Fortin recalled.
Fortin also visited Luis Enrique at St. Jude, where he saw first-hand the help and support the specialty research hospital and its staff provided his friend. He also saw how much the hospital inspired Luis Enrique to help others.
Luis Enrique often shared encouraging words with new patients. He loved to play music at the hospital and was known for taking his chemotherapy on the second-floor observation deck where he would play guitar and sing to the younger children.
"He loved to go there, as he was one of the older patients there, he took that role very seriously," Fortin said. "It's weird to say, but the experience at St. Jude and all the opportunities that St. Jude brought him helped him grow as a person. It's incredible all the happiness that St. Jude brought him in his life."
While being treated at St. Jude, Luis Enrique asked Fortin to walk with him in the 5K during the St. Jude Memphis Marathon Weekend. But Fortin was studying for finals at the University of Tennessee at Chattanooga and couldn't make it. The following year, Luis Enrique asked again. Fortin, still in college, declined once more but assured his friend that after graduation they would walk together.
In February 2015, Luis Enrique passed away at age 22. Fortin never got the chance to walk with his close friend.
"That was very difficult," Fortin said. "He asked me to walk the 5K to live the experience with him."
Fortin doesn't recall what reminded him of the St. Jude Memphis Marathon sometime in the summer of that year, but he registered, remembering the promise he had made to his friend that he would participate after graduation. By the time he registered though, there were no spots left in the 5K event, so he signed up for the full marathon.
He had never run before, so he began to train, and a month before the race he began to feel pain in his knee.
He stopped training, hoping to give his knee time to heal for the race. He didn't run again until the marathon. But two miles into the run, he felt pain in his knee and he thought of his friend, who felt pain in his knee prior to being diagnosed with cancer. "Maybe a message from him," crossed his mind.
"I thought, well, I'm going to finish it with a lot of anguish," Fortin said. "I finished it. It took me six hours, but I finished it."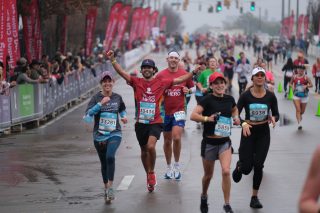 Fortin has continued to run every year to help St. Jude continue its mission of finding cures for childhood cancer and helping others like Luis Enrique.
"When I'm going through pain, I think about my friend and how he went through this super hard battle, so I can suffer for two hours," he said after completing the half marathon in December 2021. "Throughout the race I have him in mind. That's the reason I do it and I can't wait to do it every year and honor him. I know he will be proud. I wish I could have participated with him."
Through his running, Fortin has raised thousands of dollars for the research hospital as a St. Jude Hero.
"I know that Luis didn't survive his battle against cancer, but they were able to offer him a lifestyle where he and his family didn't have to pay a bill from St. Jude, and that his family didn't have to worry about that," he said. "To know that I'm supporting that cause, that means everything to me."