Walking in the rain for kids at
St. Jude

? Tutu wonderful
It was raining the morning of the
St. Jude

Walk/Run, but that didn't stop Team Tutu from taking to the street to raise money for a mission that matters.

September 30, 2021 • 3 min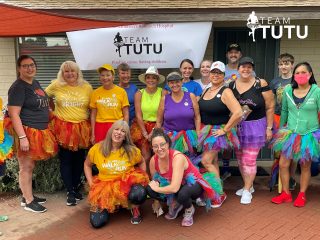 It rained on the morning of the St. Jude Walk/Run, here in Arizona of all places.
But the people on my team showed up at my house at what my friend Kate Smith, an Air Force veteran, calls Zero Dark Thirty. A TV news crew interviewed us before we started on our 3.1-mile route.
When I signed up to be a team captain to raise money for St. Jude Children's Research Hospital, I sent out texts asking friends and family to join my Team Tutu.
These were the people who had responded rapid-fire: "I'm in." "I'm in too." "I'm TOTALLY in." "Anything for the little children."
Michelle and Mimi Refuerzo carried in a huge vat of coffee, pumpkin bread and dozens of cake pops. Regina Pryor paid for delivery of two dozen bagels. Judy Clinton baked lemon poppy seed muffins. Lisa Schamus brought a big bowl of fruit.
Teachers Carla Cotton and Cathy Cohn and attorney and veterans activist Kate Smith at the St. Jude Walk/Run in Tempe.

Sawyer Bland and Aaron Carriere pulled on tutus to walk to raise money for St. Jude Children's Research Hospital.

Members of Team Tutu braved a rare rain in Tempe, Ariz., to raise money for St. Jude Children's Research Hospital during the St. Jude Walk/Run.


Members of Team Tutu braved a rare rain in Tempe, Ariz., for the St. Jude Walk/Run.

Michelle Refuerzo collects a donation from David for Team Tutu during the St. Jude Walk/Run in Tempe.
I'd put out a cooler filled with water bottles. Ten bottles of champagne and six jugs of orange were in refrigeration to make mimosas when we were finished.
Now 22 people, all vaccinated, pulled on colorful tutus and fluffed them out, scattering glitter all over the floor, the furniture, and the dog. (He didn't seem to mind.)
There's something magical about wearing a tutu. Nothing seems impossible. Not even in the rain.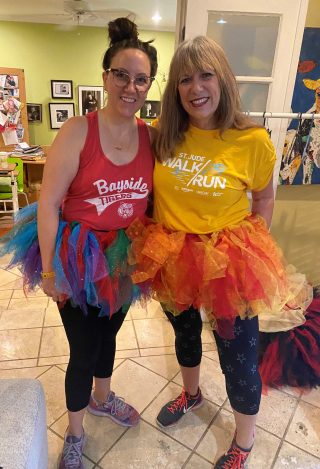 We set out with hats pulled low, umbrellas and a plastic bucket to carry any donations we might pick up along the way.
Judy's co-worker had given her $20. That went in first. The little kids who live next door brought over $5 and then a few minutes later, another $1.
There weren't as many people out as usual on a Sunday morning because of the rain. Cars honked at us. We waved, pointing to our banner and holding up the bucket.
Angela and a friend were drinking coffee on her porch, and she called out for us to wait. She popped inside and returned with $20.
One man waved us away but then caught up to us on the corner. Tyler folded a bill into the bucket.
David was sitting under an umbrella at a restaurant table, finishing breakfast, and Michelle leaned over the fence where he'd left his bike to take his money.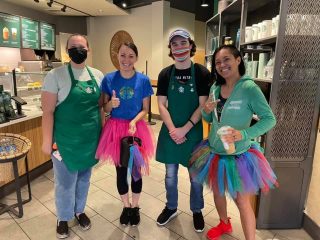 The staff at the Starbucks on Mill Avenue gave us a handful of crumpled bills.
"Of course," Melissa said, stopping on her way into a restaurant, "what a wonderful cause."
It is a wonderful cause. Since 1962, treatments invented at St. Jude have helped push the overall childhood cancer survival rate from 20 percent to more than 80 percent. Families never receive a bill from St. Jude for treatment, travel, housing or food.
"We can't think of a better way to spend our time or our money," Arch Mosley told me as we walked. It was his first time wearing a tutu.
"I just don't have many opportunities in my day-to-day life to wear a tutu," Arch said. (He's a medical examiner.) "This is special."
It felt special, all of it. We sped up or slowed down to talk to one another, catching up and laughing. We cheered each time someone donated, buoyed by their generosity.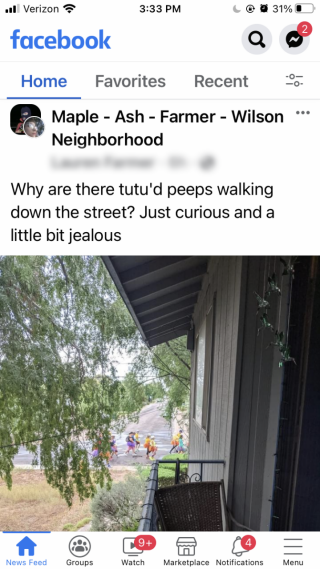 Everyone was wet and tired (except maybe Lisa who'll run the St. Jude Memphis Marathon in December). No one complained. This was nothing compared to what the kids at St. Jude go through. Anything for the little children.
Someone posted a picture of our group taken from a balcony on the neighborhood Facebook page and asked: "Why are there tutu'd peeps walking down the street? Just curious and a little bit jealous."
Ally Mahoney responded, explaining what we were doing. Later, someone clipped $5 to my mailbox.
It took us almost an hour and a half to walk 3.12 miles (officially clocked on Lisa's fancy runners' smartwatch). We'd collected $147 in the bucket, bringing the total raised by our team to $4,067.
We toasted our efforts with mimosas.
Our clothes were wet. There was glitter everywhere, even in my hair. We'd be sore the next day.
None of that mattered.
We'd done something for someone else. It made us feel wonderful.