Miami-based chef Adrianne Calvo shows her gratitude for
St. Jude

with hallowed holiday stuffing recipe
The recipe is a favorite at staff Thanksgiving celebrations year after year.

October 28, 2020 • 3 min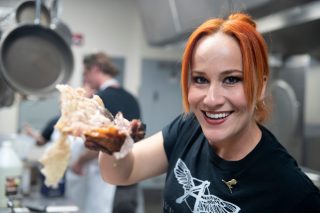 English | Español
This stuffing recipe signals the upcoming winter holidays — I've been making it for my family's Thanksgiving since I was 16 years old. And it's become a tradition not just for my family, but also for my work family. We have celebrated 13 years of Chef Adrianne's annual staff Thanksgiving with this stuffing as a favorite.
Fun fact: The menu for this event hasn't changed in 14 years, that's how good it is.
The week before Thanksgiving, my staff gathers for a dinner that I spend all day making for them as an offering of gratitude. My family also joins for this dinner because of the ultimate belief that we all (at the restaurant) spend so much time together, through the ups and downs, we inevitably become a family. Family is everything and I believe that to the core.
For all these years, I have kicked off the event with a prayer of gratitude for allowing me to have each of them in my life, on this journey, creating beautiful moments with purpose. We all hold hands, close our eyes, and it's in that moment we all realize we are FAMILY.
Before the COVID-19 pandemic, I visited St. Jude Children's Research Hospital with my mom and grandmother to cook for the patients and families every year. I felt the warmth and magic, and was reminded of a St. Jude tenet: No family pays for anything. They can focus on caring for their child. Only St. Jude does that and that's why I will forever support them. This Thanksgiving we should all be grateful for St. Jude, where families can be families during a difficult time.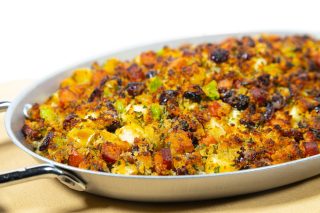 As another token of my appreciation for the amazing work this organization does every day, I wanted to share this special recipe in hopes that more people can create lasting memories around their tables this holiday season. You can purchase your very own St. Jude Make It Count Measuring Cup and make your family's holiday that much sweeter knowing you supported the kids of St. Jude.
Chef Adrianne's Andouille Sausage, Cran-apple, Cornbread Stuffing
Sweet, spicy, smoky, savory — you get all the feels with this stuffing. It's the holidays in a single bite.
Directions
• 1/4 cup canola oil
• 1/2 cup bacon, thinly sliced
• 1 pound andouille sausage, diced
• 1 cup yellow onion, minced
• 1 cup green onion, minced
• 1/2 cup celery, minced
• 1/2 cup green bell pepper, minced
• 3 tablespoons garlic, minced
• 1 tablespoon jalapeño, minced
• 1 cup green apple, small dice
• 1/2 cup dried cranberries
• 6 1/2 cups corn bread, crumbled
• 1/2 teaspoon salt
• 1/4 teaspoon freshly ground black pepper
• 1/4 teaspoon cayenne
• 5 cups chicken broth
• 6 tablespoons melted butter
Preheat the oven to 425 degrees F. In a large skillet, add canola oil and bacon. Cook over medium high heat for 3-5 minutes until bacon renders fat. Add sausage. Stir. Add onions, peppers, garlic and jalapeño. Cook just until onions become translucent, about 5 minutes. Add diced apple and cranberries. Set aside. In a large bowl, add cornbread crumbles and mix. Season with salt, pepper and cayenne. Moisten with stock and butter. Place in a baking pan. Bake for 45 minutes or until edges and top begin to brown.