'Quit when you're done':
St. Jude

mission drives epic Charlotte to Nashville duathlon
Determined to finish a run in Nashville this spring, a
St. Jude

Hero draws inspiration from his daughter's close friend and the memory of doctor who helped heal him.

June 10, 2020 • 4 min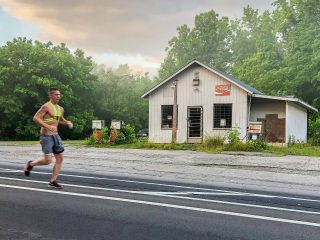 Joshua Miller's Instagram handle hints at the magnitude of his challenge: @RunningMan410, signifying the 410 miles from Charlotte to Nashville that he has been running or biking since May 29.
With his wife, Miranda, rolling slowly behind in the official #QueenCity-to-MusicCity truck, the slow but steady progress has carried Joshua through mountains, over lakes and rivers, and finally into middle Tennessee. He is almost halfway to an even more important goal: raising $83,000 for St. Jude Children's Research Hospital.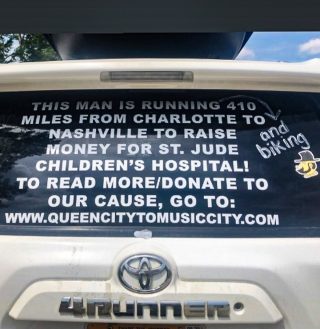 Just as he puts one (fractured) foot in front of the other, he's counting on the steady accumulation of likes, shares and $5 "attaboys" to eventually reach that fundraising figure, which is symbolic of a health crisis early in Joshua's life.
"Big donations are great," Joshua said, "but I'd rather have $1 from 83,000 people because that means we brought more attention and got more people involved in this amazing cause."
If the 'what' of this altruistic Appalachian trail is exhausting to even contemplate, the 'why' captures how one family's inspiring commitment connects them to a cause larger than themselves.