Make giving personal: Fidelity Charitable leader connects with
St. Jude

mission
Mother of brain tumor survivor, Karla D'Alleva Valas, shares her passion for
St. Jude

and helping donors maximize their impact on charitable causes.

November 24, 2020 • 5 min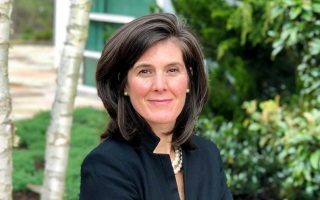 As the head of Fundraising and Distribution for Fidelity Charitable, the largest donor-advised fund (DAF) program in the U.S., Karla D'Alleva Valas loves seeing people gratified by the impact made through charitable giving.
For D'Alleva Valas, supporting St. Jude with grants from her family's DAF aligns with the philosophy developed over two decades working with philanthropically minded people and their advisors — to make giving personal.
Growing up in Loudonville, N.Y., D'Alleva Valas knew her mother, Phyllis Anastasi D'Alleva, made donating to St. Jude Children's Research Hospital a priority — the patients still hold a special place in her mother's heart.
When D'Alleva Valas' youngest son, now 14, was diagnosed with a brain tumor in 2009, she and the entire D'Alleva family felt an even deeper connection with the St. Jude mission. While Nicholas was treated at a local children's hospital, her family's journey made D'Alleva Valas even more appreciative of the core principles of St. Jude.
"While I may not be the mother of a patient treated at St. Jude, it makes me even more of an admirer of St. Jude and the mission," D'Alleva Valas said. "Even though we had the ability to have care for Nicholas close to home, I am still so passionate about the mission."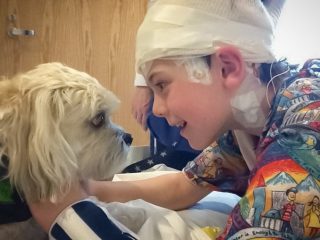 Ahead of the busiest time of the year for charitable giving, D'Alleva Valas discussed her own motivations for supporting charities like St. Jude, what she has learned about how people make decisions about their charitable giving and strategies that help people maximize giving and impact.
What did you learn from your experience about the impact St. Jude supporters can make on families going through their own difficult journeys?
We are fortunate to have many resources for our child, so it's meaningful to know support for St. Jude allows other families will have everything they need. It can be so hard for a family, just trying to keep your child's life as normal as possible. You think about what's my boy going to look like when he gets older? What's school going to be like? Will he get a driver's license? Will he go to college? Will he get married and have children?
Most people with a sick child have grown up not having those obstacles, and so they think about their child's uncertain future and that's when a parent really struggles and you wake up at night crying.
You visited St. Jude last year to see firsthand the impact donors make when they support treatment and research. What were some of the things that stood out most to you?
When I give my charitable dollar to St. Jude, I know it is being used intentionally from Day One of a patient's journey until they are hopefully able to leave with their family and go home. It is remarkable to see how many of the patients go on to become employees, seeing those success stories on the walls. I was also interested to learn that St. Jude welcomes patients back throughout their lifetime and follows their outcomes and makes that information available for other parents who cannot see the light at the end of the tunnel.
Something I think enough people don't know enough about is that research happening at St. Jude is being shared with other institutions. I know the power of that multiplier effect of the work at St. Jude. And even if you don't need to take your child to St. Jude, you know the impact is profound.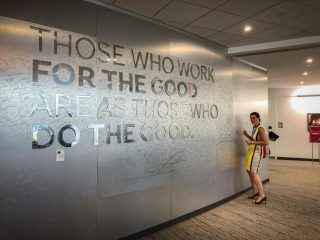 For many people, there is great meaning in carrying on a family tradition of supporting a favorite charity. How has that manifested itself in your family?
For as long as I remember, my mother was always passionate about St. Jude. She found the mission compelling. My parents had a very traditional giving profile — gave to schools, the private schools my sister, brother and I attended, gave to their alma maters — and the church. St. Jude was really the mission that diversified and broadened their philanthropic giving.
I think my mother was drawn to knowing that even though they couldn't give major gifts to so many organizations, she was making more of a difference with small but mighty and reliable, systematic contributions.
You often utilize LinkedIn to raise awareness for ways people can make an even bigger impact on charities. This summer, you shared a post highlighting the history of racial equity and inclusion at St. Jude.
I had a conversation with Rick Shadyac (President and CEO of ALSAC, the fundraising and awareness organization for St. Jude) about the mission of St. Jude, being rooted in diversity and inclusion and how it was founded (in 1962) from the principle of equality for all. I had not considered how core that is to the St. Jude mission. And that's how I use my LinkedIn platform, to learn from others and to share significant 'aha' moments that I experience because it may be beneficial to other people.
For people who may not be as familiar with giving through donor-advised funds, what features would you emphasize that may make DAFs an effective way to support charities?
I'll speak from my own experience. First, having a donor-advised fund taught my husband and me how to make more tax-efficient and strategic decisions about how to fund our philanthropy, not only for today, but also for tomorrow (retirement) and our legacy planning. The DAF allows us to "bunch" our donations, which essentially means choosing appreciated assets to give in higher income years to optimize our giving. Second, having a donor-advised fund empowers our family to give more dollars to more charities and respond to more causes because we have this ready reserve of funds that we continually fund and deplete, fund and deplete. Third, all my charitable donations are in one place and at tax time I don't need to rely on that proverbial shoe box to prepare my tax return. Fourth, I love the ability to give more than I otherwise might because of the potential for growth of my earmarked charitable dollars through the "grow" or "investment" feature of the DAF.
St. Jude was recently nominated by Fidelity Charitable associates to receive a grant from your trustees as part of your Make More of a Difference Campaign. Can you tell us about this?
The campaign is a commitment by our trustees to help all Fidelity Charitable associates participate in making grants. It is a wonderful way for us to learn about new causes and nonprofits that are important to other colleagues. This year, several colleagues nominated St. Jude and championed the mission to their fellow Associates, including the history of equity and inclusion. We often talk at Fidelity Charitable about helping people set their intention for giving, finding a nonprofit aligned with that intention and then — very importantly — connecting with others to let them know why you are passionate about that cause. Talking about charitable giving is a way to connect deeply with others and some of the best relationships at work have been forged through this program.
For me, when I think about investing in St. Jude, what do I get? I personally benefit because I feel good knowing I am carrying on a tradition started by my mother. I also know children and their families who need support at a critical time are getting it. It is very important to me knowing the support is relieving some of their struggles.