Behind Lady Antebellum's Support of
St. Jude,

a Strong Sense of Purpose
After more than a decade of devotion to the cause, Lady A honored with the Randy Owen Angels Among Us Award.

January 18, 2020 • 3 min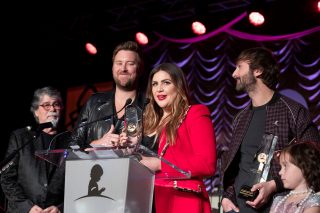 When the members of Lady Antebellum were about to visit St. Jude Children's Research Hospital for the first time, more than a decade ago, Hillary Scott remembers having "some nerves."
"I remember I picked out this bright pink shirt that I wanted to wear," she said. "Bright pink, because I was like, 'I want to go in happy.'
"And what I didn't realize is that the happy came from everybody I met. All the patients and just the staff and the incredible people who were there, and the joy that fills that place."
If that first visit was a learning experience for the superstar country trio, the decade-plus since has shown this to be a band with deep sense of purpose for a cause they hold dear.
"We're all parents, too — six kids between the three of us. And so this feels more real than ever," said Dave Haywood. "I think for what we do with music, these are the moments that make it all worth it. We get to play a lot of big stages, we have a lot of big opportunities. But these are the ones that really, really matter."
Scott, Haywood and Lady A bandmate Charles Kelley were honored Friday night with the Randy Owen Angels Among Us Award. "Every time we ask any one of them, or the collective, the group, they answer … giving of their time, their talents, using their voices, opening up their homes," said Richard C. Shadyac Jr., president and CEO of ALSAC, the fundraising and awareness organization for St. Jude.
The award — and the band's performance that followed — was a highlight of the St. Jude Country Cares Seminar, an annual gathering of artists and representatives of hundreds of country radio stations. It was the 2009 edition of the seminar that brought Lady Antebellum to St. Jude for that first visit.
"I think it really changed the trajectory of what we were doing as a band, and the way we looked at the works that we wanted to be involved in," Haywood said. "From that visit, we made St. Jude one of the top priorities."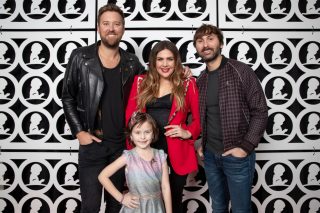 "I just feel fortunate that we are in a spot where we do have a platform," Kelley said. "Our charity, LadyAid — one of the main recipients is St. Jude, and I think it's because of that first visit."
Their support for St. Jude has taken many forms, from singing on "Hey St. Jude," the charity update of the Beatles' classic "Hey Jude," to donning the iconic "This Shirt Saves Lives" tees on their social media accounts, to performing at country DJ Bobby Bones' annual "Million Dollar Show."
Last fall, they brought the cause home — literally. They co-hosted the first "St. Jude Presents: Curated" dinner event, held in the backyard of Haywood and his wife Kelli's home. It raised more than $650,000 for St. Jude.
Scott said the band members were raised to give, growing up as kids — and then as young country artists.
"We were all in our early to mid-twenties when we started the band, and when we came to St. Jude for the first time," she said. "And being in country music, this is just kind of a rite of passage, an expectation of the radiothons and the fundraisers, and talking about it, and visits.
"It's understood you do it, and you come and you experience it and you understand why. And then it just lights a fire in you to want to just do more."