Inspiration4 competition turns to collaboration for two space fans
Andrew and Tiffany were total strangers brought together by
St. Jude

Mission: Inspired. Now, their crew has surpassed $100,000 raised for the research hospital.

July 15, 2021 • 3 min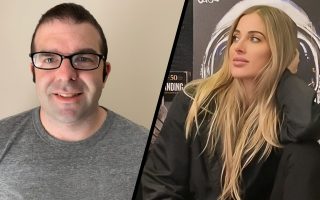 It was an anonymous $1,000 donation that brought Andrew Borger and Tiffany Pirtle together. And through it, these strangers have learned just how much they have in common.
Both 35, they each dreamed of being astronauts since they were kids. After careers in the military and country music, respectively, they both returned to school to study computer science in hopes of working in aviation and aerospace.
And each has a passion for St. Jude Children's Research Hospital. Andrew supports St. Jude monthly through its Partner in Hope program, and Tiffany helped coordinate charitable concerts for St. Jude during her music-industry days.
Their fascination for space exploration and passion for St. Jude Children's Research Hospital caused them to cross paths – well, virtually at least – through Inspiration4, the all-civilian mission to space benefitting St. Jude.
"I don't usually do contests. Anything that has to do with luck of the draw, I don't invest time in it, but this was a too-good-to-pass-up opportunity," she said. "When you are raising money for St. Jude it's a win-win."
It was the same for Andrew, a U.S. Air Force Veteran whose mom had worked at the NASA Ames Research Center in Silicon Valley.
"In the summer, I would go to work with her and hang out with all the folks who worked at NASA," Andrew said. "I went to space camp. It was a great experience, and it molded my passion for space."
He joined the Inspiration4 campaign hoping to land a coveted seat to space. After other winners were announced, he continued participating through St. Jude Mission: Inspired, quickly becoming one of the top fundraisers in the effort to raise $200 million to defeat childhood cancer here on Earth.
Tiffany, too, continued her fundraising. And out of the blue, she received a $1,000 donation from Andrew.
Although the two had never met, she recognized his name because they both like, comment and share the same Inspiration4 posts on social media.
"I had to reach out," she said. "I didn't know he had his own campaign, which made it 10 times better that he was donating to another fundraiser.
I have to tell you thank you, she wrote on Twitter. It's so refreshing to see selfless giving.
Turns out, Tiffany wasn't the only one to benefit from Andrew's generosity. He had made several contributions to other fundraisers in the Top 10, without even disclosing his name on the donor rolls.
Why? Well, cancer runs in Andrew's family, and he knows the research taking place at St. Jude will help not only children, but everyone. About five years ago, he began donating to St. Jude at the end of each year, and then set up automatic monthly donations through the St. Jude Partner in Hope program.
"My fundraiser was just one of many," Andrew said. "If I could donate to five or more other fundraisers, I figured I could make a bigger difference."
"And he was successful in doing so," Tiffany added. "It certainly gave me the inspiration and motivation to do more."
Now, the two have teamed up to form a fundraising crew with a goal of raising $110,000.
"Out of all the donations, she sent me a message on Twitter thanking me," Andrew said. "I thought that was nice and I messaged her back asking if she wanted to join me toward reaching my next goal."
Individually, Andrew has raised $85,000. With Andrew's encouragement, Tiffany blew away her initial goal of $1,500, raising $10,000.
Andrew credits his philanthropic spirit to his time in the military.
"One of the things the military emphasis is community involvement. I found out about St. Jude at that time," Andrew said. "I love their mission of treating kids and not sending a bill to families. I can definitely get behind that."