St. Jude

inspires NBA legend Penny Hardaway to do more
Hometown hero calls on others to join the cause of saving kids' lives

August 04, 2020 • 3 min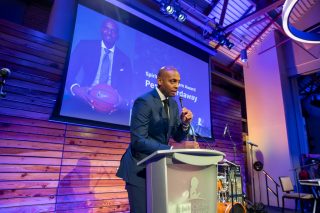 Penny Hardaway grew up tall and talented as a basketball star in Memphis, a city that reveres the game and those who play it well.
He became a high school and college all-American in his hometown, then left for NBA stardom and Olympic gold. Now he's back home as head coach of his alma mater, the University of Memphis.
But along the way, Hardaway learned there's more to life than basketball. There's giving back to the community and making his hometown — and the world — a better place, from volunteering to help coach the middle school team of a friend who was battling cancer, to supporting the kids of St. Jude Children's Research Hospital.
Hardaway was honored at St. Jude Spirit of the Dream, an annual event celebrating the achievements of African Americans who embody the lifesaving work of St. Jude and its founder, Danny Thomas.
In receiving the Spirit of the Dream Award, Hardaway talked about his history with St. Jude and how he's been moved to help the cause of saving children's lives.
Q: What does
St. Jude

mean to you?

A: It means the world to me. I am very proud that we have the hospital here in Memphis. I've visited numerous times and to see the growth it's truly unbelievable. What St. Jude does for the families and the kids is nothing short of extraordinary.
Q: Earlier this year, you received the Spirit of the Dream Award from
St. Jude

. What did that mean to you?

A: It just makes me feel proud as a Memphian to be giving back to the community, to be recognized for doing something as easy as just being kind and helping others.

You don't want an award for that. You don't think to get awards for that. But I'm definitely appreciative. It's something that I don't take lightly.

If you've been to the hospital and you know what St. Jude does, then you know that that's big time.
Q: What struck you when you first visited
St. Jude

?

A: It seemed like every room we went to, every kid was more excited. We were going into rooms thinking it was going to be somber, it was going to be sad, that everybody was going to be worried. As soon as we stepped in the room, kids lit up. And that's the amazing thing about that hospital and about those kids. Those kids were just lighting up at that fact that someone was coming to see them.

And that takes me back to when I was growing up. Talking about getting the Spirit of the Dream Award — those kids are dreamers. I was a big dreamer. I dreamed with no fear.
Q: What's your message for people about
St. Jude,

as recipient of the Spirit of the Dream Award?

A: The awards are great, but we do still have a mission. And the mission is the hospital. The families, they don't pay anything. They come here, they get the food, they get the travel. They get everything for free. But the hospital needs help. We need to be inspired to help them.

Being a proud Memphian that knows what this hospital has done for our city, for the country, for the world, we need more, and I'm inspired to do more.