For NFL's Ben Leber, Connection to
St. Jude

is Personal
Fifteen years after losing his nephew to brain cancer, football color commentator and former Minnesota Viking Ben Leber shares his family's story to support
St. Jude

.

June 20, 2019 • 8 min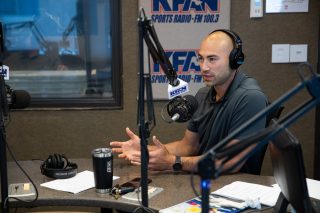 Standing outside the coffee shop in Linden Hills, a well-heeled neighborhood in southwest Minneapolis, Ben Leber is joking about joint pain and how he finds it difficult to run the three miles around Lake Harriet – one of the few not-so-good legacies of a successful life in pro football.
"I'll run a mile and a half with my dog," says Ben. "That's my speed."
It's the warm season here, at last, and people are making plans. Ben's thinking ahead to golf season, when he'll be hosting the Ben Leber St. Jude Golf Celebration in Golden Valley, Minnesota, which takes place June 24.
After his 10-year career in the NFL as a linebacker for the San Diego Chargers, Minnesota Vikings and St. Louis Rams, Ben could have gone anywhere. Winter aside, Minnesota was the kind of place he wanted his kids to grow up.
Family is important to Leber, and so is St. Jude Children's Research Hospital. It's the place that tried so hard to cure his nephew.
'It just kind of came out of nowhere'
Aaron Leber casts his younger brother Ben's NFL story as that of an underdog.
The story of how a small, half-Korean boy in Vermillion, South Dakota, felt so intimidated by his two athletic older brothers that, for years in the late 1980s, he outright refused to compete with them.
Ben learned football, then, at the family dinner table over steaming bowls of kimchi and beef bulgogi, where he listened to his brothers argue the relative merits of their favorite NFL teams: the still proud but declining Cowboys and the ascendant 49ers. He also watched the games on TV and studied his brothers' successes on the field, and their failures – always learning.
"Make no mistake: A fire burned inside him as hot as anyone else's," says Aaron. "You just couldn't see it yet."
Then one day, you could.
Ben grew tall. In seventh grade, he was 5-foot-2. His freshman year of high school, he was 6-foot-2.
"With that came confidence, and he started lifting weights and working out, and it all happened at one time," said Aaron.
By the time Ben got on the field in high school, he already had the characteristics that would define his professional playing style: a versatility on the field and a studious approach to football.
"One day, Ben came running over to me and my brother Jason, and he had a letter from Kansas State," says Aaron. "They offered him a full ride scholarship, and it just kind of came out of nowhere."
Kansas State is where the linebacker left his brothers' shadow, earning All-Big 12 honors twice.
Maybe, Aaron thought, his little brother could go all the way to the NFL.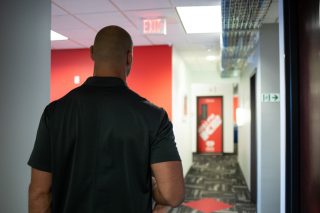 'We need to take another scan'
When the boys were growing up, Aaron had real talent on the football and baseball fields, but bad luck, too, including a broken leg in high school, which sidelined any thoughts of playing past college. But that's okay, because it wasn't his dream anyway.
"I didn't dream about playing here or there. I dreamed about, you know, kids and family and things like that. I dreamed about playing catch."
Aaron's son Aidan was born in November 2002, the same year Ben went pro as a stand-out rookie with the San Diego Chargers.
Aaron recalls a sense of wonder at his son's birth: "I held him for probably two hours and just stared at him because this little thing looks like me, and is part of me."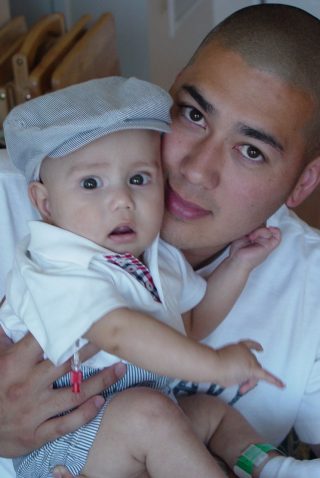 Aidan seemed perfectly healthy, except for a little flab of extra skin on the back of his neck. Nothing to worry about, though. A CT scan would help the doctors know the depth of the skin tag so that when they went in surgically to remove it, they'd be sure to go deep enough.
After the CT scan, Aaron's wife Shannon scooped up the baby, and they walked down the hall toward the parking lot and home. But when they were about three quarters of the way down the hallway, a nurse came running after them to change their lives.
"Oh, sorry, sorry, sorry," the nurse told them. "We need to take another scan."
She already knew Aidan had a brain tumor.
Aaron still watches the mental replay with the nurse whenever he thinks about what happened to Aidan. The nurse is sped up, she is slowed down, and he reviews the tape. She apologizes too much – that was the first clue something was wrong with Aidan that had nothing to do with a skin tag.
Thinking about how close his young family was to outside – to fresh air, to freedom – before the nurse called them back for a second scan, still has the capacity to make Aaron gasp.
Everyone loves an underdog story, but sometimes they don't end the way they should.
At the hospital, a brain surgeon pointed to an area on Aidan's MRI at the back of the baby's head.
"This right here," the doctor said and circled it. "That's the problem."
It was a tumor, the doctor explained, probably a type of brain cancer called medulloblastoma, but it would take surgery to confirm it. Aaron's parents and siblings, including Ben, flew in to Louisville to be with Aaron and Shannon during Aidan's surgery.
"The doctors felt they'd gotten most of it, but there was some they couldn't get because of the margins," says Ben. "It was attached to the brainstem."
Aidan would need more care, but because he was too young for radiation therapy – it would have been too damaging to his developing brain – his odds of long-term survival were slim. The family researched the best places to go. "It kept coming back to St. Jude," says Aaron.
Aaron and Shannon made the nearly 400-mile trip from their home in Louisville, Kentucky, to Memphis, Tennessee. Aidan had a second surgery to remove more tumor growth and became a patient at St. Jude.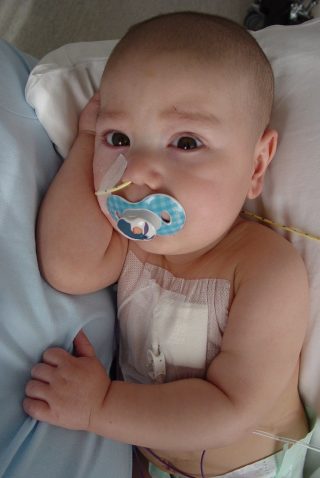 Ben was able to make the trip to visit.
"When I first saw St. Jude, I have to admit that I thought, 'Is this it?' because I was expecting something huge," says Ben, who stretches his arms wide. "St. Jude seemed small relative to the advances that have come from there and the bigger impact it has in the medical community."
While the medical reputation of St. Jude already loomed large for Ben, its reputation for taking care of families in other ways was just becoming known to him.
Aaron and his family moved into Target House, where they had a two-bedroom apartment with a living room, bathroom and kitchen.
"It was small, but it was everything you would need," says Ben. "To see it firsthand, it became really, really tangible as far as: You can look, touch and feel how important the St. Jude mission is. It really blew me away."
The plan at St. Jude was to keep Aidan's cancer under control with chemotherapy until he was old enough to undergo radiation therapy. The family was struck by not only the dedication, but the compassion on the part of the staff.
"You hear about professional distance all the time when it comes to doctors. Growing up, you see it depicted in movies. The doctors are very solemn and sterile. There's not a lot of interaction. They give you the facts, and then they pretty much walk out of the room. And that's not the experience at St. Jude, and that's not how the doctors are," says Aaron. "Listen, I didn't need indifference. I needed someone who cared. I can't say it enough that every single person is that way. It really is an amazing place."
Through all of this, Aidan experienced many developmental delays, but he was a happy baby, lovable and loving. "As soon as you would think Aidan didn't understand what was going on, he's picking up on what you're talking about, and he's curious, and he's interactive, and trying to play games and peek a boo, and all these different things that a little baby would do," says Aaron.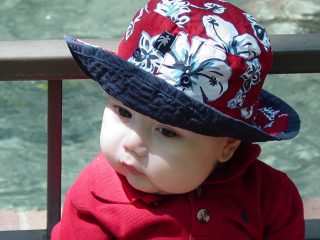 Aidan had some good scans, and some bad ones. The tumor would grow, and his doctor would change the chemotherapy. The family would see some shrinkage on the new chemo, and then a couple scans later, they'd see some growth.
As Ben continued to distinguish himself in the NFL, Aaron watched Ben's games when he could on the TV at Target House. The brothers kept in touch through frequent phone calls.
"For me, it helped me keep my sanity – enjoying and seeing him in his career," says Aaron.
"If you can get that one hour a day or two hours a day watching a game or hearing about something positive. For me, it helped just to get my mind off the harder parts of my everyday life."
In early 2004, a scan indicated Aidan's cancer had grown aggressively.
"We went from having good scans and things looked a little positive, and man, in just a few short weeks, we lost everything," says Aaron.
'He probably thinks back to Aidan'
Aidan passed away on March 3, 2004.
"In some ways, you think that time heals and takes the pain away, but as time goes by, it's more time I haven't seen him," says Aaron. His son would be turning 17 this year.
Aaron and Shannon went on to have more children and are divorced now, but the two are united in agreement that Aidan's name will be spoken, that joy will still be had in remembering his sweet, loving self. "He was happy and affectionate and wanted to cuddle and squeeze and hug you all the time," says Aaron.
Each of Aidan's siblings has a stuffed animal or memento that belonged to him. They participate as a family in the annual St. Jude Walk/Run in Aidan's memory.
"I know it was difficult for him," says Ben. "The scope of how difficult it really was, I will never know. To have three kids of my own and put myself in his shoes, I can't imagine what he and his wife went through. To see him come out through all of that is…pretty inspiring."
His brother's example has motivated Ben to use his influence to support St. Jude. He toured the hospital recently and saw how much it's changed. St. Jude is now home to the St. Jude Red Frog Events Proton Therapy Center, providing one of the most advanced radiation technologies yet for treatment of pediatric cancer. The proton beam homes in on cancer cells while sparing the healthy tissue surrounding them and offers particular promise to kids who have brain tumors.
So Ben wonders.
"Maybe Aidan's situation could have been different, had these technologies been around," says Ben.
If he can, he'll help the science move forward, for the next family.
"As much as he can understand, I know he does," says Aaron. "He's got these three wonderful kids, and he loves them so much. And sometimes when he thinks about them, I think he probably thinks back to Aidan."
'I told them our personal story'
For the K102 Cares for St. Jude Kids Radiothon in December 2013, the studio brass at the country station invited Ben to participate. Ben, who does football color commentary for their sister station KFAN, as well as FOX Sports, was always a sure thing when it came to keeping a rat-a-tat conversation going. Except maybe this time.
"So I walk in there, and I go on air with Mike Mussman, one of the DJs, and they said, generically, 'Why is St. Jude important?' I think they may have been expecting me to say, 'Well, it's such a great cause, blah, blah, blah,' but then I told them our personal story with my family," says Ben. It was the first time he had talked about it publicly.
Ben told the story of his nephew and the little boy's brain tumor. He told about how St. Jude provided treatment, but more than that. He told about how the hospital gave his brother's family housing and transportation and a Kroger grocery card at a time when they really needed it – so they could take care of their son. And all the while doing the research to save more lives.
You could say the story of the two brothers diverged when one brother went into the NFL while the other had a child with cancer, but that's not the way families work, especially not a family as loving and tight-knit as this one.
It happened to both of them.
Ben told the story of his family and St. Jude, and he'll tell it again at the golf tournament. And as long as it can do some good for kids like Aidan, Ben will keep on telling his story.