Par for the Cause
St. Jude

patients star alongside Brooks Koepka and the rest of the sport's best at the World Golf Championships in Memphis.

July 28, 2019 • 5 min
As Brooks Koepka approached the 18th green in Sunday's final round of the World Golf Championships-FedEx St. Jude Invitational, he was greeted by a manageable two-putt for the tournament title, a gallery ready to erupt, and a 12-year-old boy named Reid.

Reid was a patient at St. Jude Children's Research Hospital, successfully treated for rhabdomyosarcoma, and a proud reminder that the PGA Tour's annual Memphis event is about far more than golf — even when a world-class field featuring 45 of the top 50-ranked players descends on TPC Southwind.
"Going to that hospital, and seeing some of these kids, really changed my life," said Koepka, who first visited St. Jude in 2017 and has made multiple donations. "I realized you can't take life for granted. You really have to enjoy it. Appreciate the little things. Because you see these kids, they're struggling for their lives.
"Every time you come back here, you're reminded of that, especially when you walk off 18 and you're greeted by these kids. They've always got a smile on their face, and it's incredible that they do.
"It touches me."
This was Memphis's first year as a WGC event, resulting in a greatly elevated field and higher global profile. But the city has long been a fixture on the tour, and a fundraising powerhouse for its hometown hospital founded by actor, humanitarian — and 10-handicap golfer — Danny Thomas. The tournament has raised more than $43 million for St. Jude since the hospital became the sole beneficiary in 1970.
And so St. Jude patients played starring roles all week. There was Reid and fellow patients Allyson, Bridget, Bailey, Calvin, Dakota, Quincy and Shaurya on the 18th green Sunday, serving as pin flag caddies — and visual reminders of St. Jude's fight against cancer and other catastrophic diseases.
Earlier in the week, Reid was honored as the Purple Eagle patient, a program in which a plane features the name of a child or grandchild of a FedEx team member ­— in this case, his dad, a pilot. Fourteen-year-old Bailey's drawings were incorporated into the design of a pair of FootJoy shoes worn by golfer Justin Thomas. And when golfer Justin Rose came up five feet short on a 50-foot putt for charity, 13-year-old Dakota coolly sank the remaining five-footer — clinching a $50,000 donation from FedEx.
So if you're talking about highlights of the 2019 WGC-FedEx St. Jude Invitational, maybe you're talking about McIlroy's 27-foot birdie putt to cap his third round, or the overall star power of a field with the likes of Phil Mickelson and Dustin Johnson.
Or maybe you're talking about those St. Jude moments that made this so much more than a golf tournament.
Here are a few more:
He was a small-town Alabama kid who loved football more than anything. And so when Kane was diagnosed with acute lymphoblastic leukemia (ALL) in January 2015, a few months after his freshman season, he wasn't thinking about whether he'd live or die.
He was thinking about whether he'd ever play high school football again.
Two-and-a-half years later, in August 2017, he did — and dramatically so.
"I finished treatment on a Wednesday and played football that Friday," he said. "I played the whole game. It was my senior year and I wasn't going to miss it."
Kane got to tell that story during the Danny Thomas Celebrity-Am in some pretty heady company. The celebrity in Kane's group was Barrett Jones, who won national championships and all-American honors during his days as an offensive lineman for the University of Alabama Crimson Tide ­— Kane's favorite team.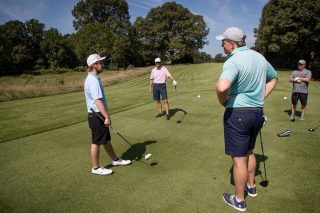 When Jones realized he was in the company of a former St. Jude patient, he said, "Tell me your story."
Kane said, "The whole thing?"
"Yeah," Jones said. "We've got 17 more holes together."
Jones then gathered their playing group around the tee, and Kane told his St. Jude story. When he came to the best part — returning to the field for his senior season, just two days removed from treatment — the group responded as one:
"Awesome."
Big times with Little Loopers
Stealing the scene from a star? It was child's play at the Danny Thomas Celebrity-Am, which attracted big names from the worlds of sports and entertainment, from Pro Football Hall of Famer Terrell Owens to actress Kathryn Newton of TV's "Big Little Lies."
Celebs became fans when they arrived at the holes where St. Jude patients were serving as Little Looper honorary caddies.
Calvin, stationed at the 13th hole, scored major style points with the golf ball and FedEx logo painted on top of his bald head — a 10-year-old turning one of the most telling symbols of cancer treatment into an expression of sheer joy.
It was Newton, whose acting credits also include "Pokémon Detective Pikachu," who realized that everybody except Calvin could see how cool he looked.
"You've seen it, right," she said. "You know how good it looks?"
Meanwhile, a reunion was taking place at No. 8.
Former NFL linebacker Dhani Jones was lining up a putt when he turned to his caddie, 9-year-old St. Jude patient Drew. Jones said he thought he needed to aim right to allow for a leftward break. But Drew had other ideas.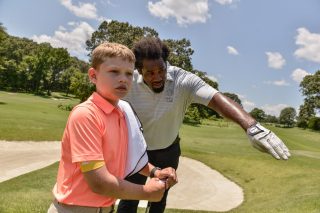 "Or, you could go straight and avoid the risk," he said.
Drew wasn't shy about passing along putting advice, especially to Jones, who has ties to Drew's family. His mom, Shawna, knew Jones when they both were athletes at the University of Michigan.
The ties only deepened after college, when Jones was drafted by the New York Giants, Shawna's favorite team.
"We love Michigan, and we love the Giants." Shawna said.
After just missing the long putt, Jones gave Drew a high-five and said good-bye to his college acquaintance.
"He's a great kid," Jones said, climbing back into his golf cart.
Golfer Bryson DeChambeau majored in physics at SMU. His nickname on the PGA Tour is "The Mad Scientist," for his brainy approach to the game and penchant for talking about things like biomechanics, the coefficient of restitution of the flagstick, and getting your brain into a parasympathetic state.
Not to say he's an odd duck on the PGA Tour, but he was the subject of this actual headline, in the British press: Bryson DeChambeau faces investigation for using a protractor.
DeChambeau found an enthusiastic student and impromptu golfing buddy when he visited the hospital campus for the St. Jude Women's Club Patient Golf-A-Round and met Dakota.
Dakota is a serious golfer whose dad played professionally on developmental tours. He's competing on a junior team this summer even as he's continuing treatment for ALL — and has dreams of becoming a pro someday.
But the lessons learned went both ways — golf techniques for Dakota, and a powerful dose of perspective for DeChambeau. Consider: The next night, as DeChambeau would be mentally preparing for the first round of the tournament, Dakota would be receiving another round of chemotherapy.
"It's inspirational, honestly, to me," DeChambeau said. "I've never had anything like that in my life. So when I look at kids that have had way tougher times than me, it's an inspiration. It makes me want to play for them, and play better, because of it. Give them hope."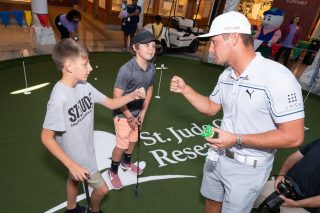 As for Dakota's dreams of becoming a pro golfer, DeChambeau likes his new, young friend's chances.
"Once he gets past this fight," he said, "there's nothing that can stop him."
Writer Thomas Charlier contributed to this story.