Patrick Warburton: The role of a lifetime
Actor Patrick Warburton and wife Cathy carry on long tradition of celebrity support for
St. Jude,

raising more than $15 million through annual celebrity golf event.

August 27, 2020 • 4 min
Patrick Warburton's finest role?
For an actor whose credits range from TV to animated features to commercials, from the hit sitcom Seinfeld to Bee Movie to being the wisecracking voice of boneless wings for a restaurant chain, it may be impossible to pick one.
But how about the role he played early this year, pre-pandemic (himself) in a place (St. Jude Children's Research Hospital) where he's right at home and rightly beloved.
It was evident as Warburton and his wife of 29 years, Cathy, spent time talking and laughing with a young patient and her mom. The patient was in a wheelchair, holding a stuffed animal. She'd recognized Warburton from his series of TV commercials for a rental car company.
No sooner had they said goodbye — Cathy with a hug, Patrick blowing a kiss — than an adult former patient recognized Warburton and began a conversation. The man, in remission for some 25 years now, thanked the actor and his wife for all the money they've raised for St. Jude ­— more than $15 million — through the Warburton Celebrity Golf Tournament, aka The Warburton, in Palm Desert, California.
"We wanted to have something that gave us a sense of purpose outside of just sort of our own world," said Patrick, who with Cathy hosted the 10th edition of The Warburton earlier this year, setting an event record by bringing in $3.6 million.
They have four children. They have a prosperous life. It might be easy to lose sight of the less fortunate. "But that's not the human condition," Patrick said.
And so the Warburtons found themselves looking for a way to do some good in the world. They specifically wanted to help children.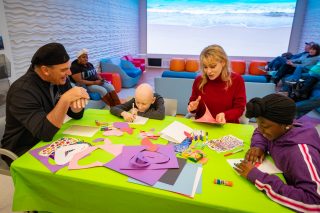 "Because we have kids," Cathy said. "That's where our heart is."
So, about 12 years ago, Patrick was taking part in a golf tournament benefiting St. Jude, hosted by his friend Jim McMahon, the former Super Bowl-winning quarterback with the NFL's Chicago Bears.
"I met a little patient, a little guy, and his family," Patrick said. "I remember doing cartoon voices for him."
Asked if he'd be willing to visit St. Jude and read to young patients, Patrick recalled, "I immediately said, 'Do you want better? I'll host an event.'"
The comment didn't come out of nowhere. Patrick said he was raised to give, growing up in California — his father was an orthopedic surgeon who would make regular trips to Mexico to provide free orthopedic care to children there.
"So he grew up in an environment where you're always giving of yourself," Cathy said.
She also remembers their first date, getting in the car and noticing a white coat with the emblem of a California children's hospital — turns out young Patrick volunteered there, reading to the kids.
On the Warburtons' first visit to St. Jude, Patrick read to patients, and Cathy, who has an art degree, noticed some new construction and offered to come back and "paint a mural or something." On a return visit, she painted blood cells on the walls of the St. Jude Blood Donor Center, with help from a young patient.
It was Cathy's contribution to one of the things she loves most about St. Jude — the brightness and vibrancy of the place.
"All the color, I think, is very soothing for the kids — and distracting (from disease and the rigors of treatment)," she said. "It does not feel like a hospital environment."
That was evident on the couple's recent tour. They lingered in the hallway that serves as the Teen Art Gallery, with Patrick studying the artwork of a patient named Dakota, a competitive golfer whose art was inspired by the sport he loves.
Dakota's project includes pill bottles that spell out "St. Jude," pictures of the teenager playing golf, and written references to playing while undergoing chemotherapy, and sinking a putt during a charity event at the World Golf Championships-FedEx St. Jude Invitational that resulted in a $50,000 donation from FedEx.
Patrick admired the art — and "the golf swing I'll never have."
Cathy enjoyed one of the ever-popular St. Jude tour stops — the ABCs of Cancer patient art display. A project of the St. Jude Child Life Program, the alphabetically themed display lets patients use art to express themselves and make sense of what they're facing.
As St. Jude, with its vibrancy and art, is more than medicine, so is the annual Warburtons' fundraiser more than golf. The four-day event, which is the largest golf fundraiser of its kind for St. Jude nationwide, also includes "The Soiree," a dinner complete with red carpet and silent and live auctions, and two musical events, one featuring prominent songwriters and the other a multi-performer concert starring members of legendary acts.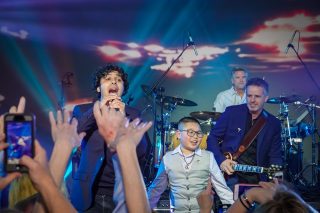 "We'll have maybe eight or nine Rock & Roll Hall of Fame artists, all one night," Patrick said. "So many of these musicians, these great musicians, all play golf, and all love St. Jude. So they all come out, and just volunteer their time."
This year's lineup included Jeff "Skunk" Baxter (Steely Dan, The Doobie Brothers), Mike Mills (R.E.M.), Chris Barron (Spin Doctors) and more.
"We get all these artists coming in, and they all do their greatest hits," Patrick said. "One year, our concert went five hours, and the last guy to walk on stage, at one o'clock in the morning, was Stephen Stills. So, it's a legendary show."
And one that Danny Thomas, founder of St. Jude, would have appreciated. He relied heavily on his friends in the entertainment community to raise funds to build St. Jude, and said, "Without show business there would be no St. Jude Hospital."
Since Danny's day, new generations of celebrities have followed, from movie stars to country singers to athletes and even online video game streamers. And a certain actor you may know as Puddy from Seinfeld, parodic superhero "The Tick" from the cult favorite of that name, Joe Swanson from Family Guy, Guy from Ted, Ken from Bee Movie — or for a role in which he seems to be a natural, although no acting is required: St. Jude friend and supporter.