St. Jude

Dream Home® Giveaway winners celebrate being home for the holidays
Social distancing may mean scaled-back festivities for the holidays this year, but for these
St. Jude

Dream Home Giveaway winners, it's all still a blessing.

December 17, 2020 • 4 min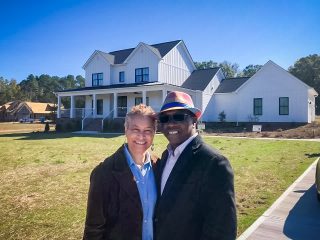 Ricky Oliver's new home in Charlotte, North Carolina, nestles at the bottom of a hill and has a symphony of landscape lighting. So when you're coming down the street at night and the house is all lit up, and you squint your eyes, it looks "just like the White House," Ricky said, "and that's my favorite viewing of that home."
The Navy veteran purchased his raffle ticket to enter the Charlotte St. Jude Dream Home® Giveaway in 2019 because he wanted to help out families at St. Jude Children's Research Hospital.
The day he won, he was in his bedroom folding laundry. He heard his name called on TV as the St. Jude Dream Home Giveaway winner. "I said, 'Oh my God!' And all the clothes went everywhere, all over the floor," said Ricky.
When he called his wife to tell her about their good fortune, she assumed he was pranking her and hung up on him. Twice.
You kind of get where she's coming from: Winning a new home is a pretty stunning thing.
This past year, more than 40 families around the country got the phone call: You've won a new home in the St. Jude Dream Home Giveaway.
Now that they're settling in, we checked in with three winners to find out how they'll be spending the holidays. Social distancing may have scaled back some plans, but the celebration continues.
A big, nice, white Christmas tree
Ricky Oliver found it in his heart to forgive his wife for hanging up on him twice, and they've been happily living in their new home in Charlotte since February.
Back then, Ricky had visions of his extended family coming over for the holidays, but that will have to wait for next year. This Christmas, he and his wife will keep their holiday traditions quietly and opt for calls to extended family instead of visiting in person. But they plan to go big with the tree.
"The house is white with black trim, and so I told my wife, 'This year I want to get a big, nice, white Christmas tree and put it in the dining room right in the window so it can shine out through the window with the lights."
Memories of Christmas past
In a what-are-the-odds twist of fate, Janet Sanchez of Billings, Montana, won her renovated childhood home in the Billings St. Jude Dream Home Giveaway earlier this year. She felt almost like a celebrity, with media inquiries coming from as far away as India.
At the time, she couldn't wait to show the home to her dad, who lives on a farm outside Billings and has early-stage dementia.
They'd moved away from the home 56 years ago, but his memories of the place were vivid. When Janet was a kid in the home at Christmastime, her parents used to gather the children in front of the decorated fireplace for their annual holiday photo.
Recently she was able to bring him to see the home. The house had changed so much with its upgrades that it confused him a little, "but he remembered the exact address," she said.
And luckily, the old fireplace looked pretty much the same, as solid as in his memories. A touchstone.
Being in the new home, which is really her old home, still astounds her. She'll get to spend more time there this holiday season because she's retiring at the end of this month.
"Still can't believe this is real," said Janet. "And the story I tell everyone never gets old."
A foundation of love
Meanwhile in Denver, Anthony Edwards' family moved into their St. Jude Dream Home Giveaway house two months ago. "We fell in love the instant we saw it," said Edwards.
The builders added extras you just don't see in every home, such as a dog spa for the family's two dogs.
"I love that dog spa area. It's awesome," said Anthony. "And me, I'm a tech nerd, so I love that the home is wired for Ethernet already. Kids can plug and play with their consoles and not have to worry about slow, laggy Wi-Fi."
And don't get him started on that barbecue grill. It's his favorite part of the home.
Larger gatherings are out of the question now, but with his wife and their four kids at home, their new home will still be merry this Christmas.
"We cook. We play games. And you know, gift sharing. Just kind of spending time, basically," said Anthony.
"Time is one thing that you lose every day, so you might as well use it wisely. Especially with the craziness of the things that are going on with the world right now, we like to spend as much time together as we can."
Anthony counts his blessings. His children have been mostly healthy throughout their lives, but they've had a few significant medical issues. A parent worries so much when his child is sick, and there are bills. It makes him feel compassion for the families at St. Jude.
That's why he purchased that St. Jude Dream Home Giveaway raffle ticket: to help families.
"I never expected to win," said Anthony.
His home, like all the St. Jude Dream Home Giveaway houses, is built on a foundation of love.