Delivering Smiles: Amazon teams up with
St. Jude

to help kids with cancer
Through its Amazon Goes Gold campaign, Amazon is supporting Childhood Cancer Awareness Month and inspiring
St. Jude

patients to have fun learning about science and technology.

September 27, 2019 • 2 min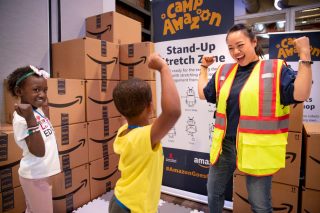 Six-year-old Matthew fist-bumped his way into the exercise station and dashed with his super-hero cape through a maze of cardboard boxes stacked to twice his height. But his proudest achievement, he said later, was to "build a robot."
Matthew and more than 200 other St. Jude Children's Research Hospital patients and family members streamed through an interactive whirl of fun and education known as "Camp Amazon." The Seattle-based technology giant Amazon.com, Inc., hosted the camp at St. Jude as part of its Amazon Goes Gold campaign during Childhood Cancer Awareness Month.
Designed to show how Amazon picks, packs and ships packages worldwide, the camp experience offered patients the chance to piece together robots from circuit boards and interlocking plastic parts. The kids — some wearing protective masks or dangling IV lines — also navigated a fort built of boxes, created their own special gold shipping boxes and packed their own lunches, which traveled along a conveyor line to them.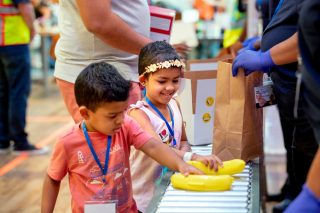 Amazon's first-ever on-campus event at St. Jude showcased two of the company's featured causes: fighting childhood cancer and promoting STEM (science, technology, engineering and math) education.
Amazon has been a major supporter of St. Jude, donating more than $7.4 million to the hospital since 2014 through its AmazonSmile initiative, in which a percentage of customers' purchases goes to a charity of their choice. Throughout the month of September, the company is helping raise awareness across its network by delivering specially designed packages with gold ribbons — the international symbol of childhood cancer. The Amazon Goes Gold campaign was launched in 2017.
"We want St. Jude patients and kids everywhere affected by childhood cancer to imagine the future innovators in themselves," said Holly McMillan, general manager of an Amazon fulfillment center in the Memphis area. "It was an honor to create a memorable experience for St. Jude patients and their families while raising awareness of this devastating illness, and we look forward to future events."
Once the event was well underway, Ronak Patel, a director of Amazon Logistics, surveyed the busy scene with satisfaction. "We did think people would have fun," he said, noting the "tons of smiles" across the expansive room.
The purpose of the event didn't stop at entertainment, however. "We're aiming to inspire people," Patel said. "We want them to be innovators."
Toward that end, each participant received a kit intended to fuel an interest in STEM subjects.
A 5-year-old patient named Colton looked every bit the future innovator. He spent several minutes in the camp's robotics workshop manipulating the parts and wires that sparked the wheels to begin turning on a small mobile toy.
"It's so nice to have events like this where he gets to be a kid," Colton's mom, Stephanie, said.
Matthew's dad, Chris, agreed. "It's a blessing for them. It's adventurous for them," he said. "It takes his mind off his medication."
As his dad spoke, Matthew scurried about, donning a mask and cape and beaming a constant smile.