Long-term Hodgkin lymphoma survivor reflects on her life 50 years after her treatment at
St. Jude

Children's Research Hospital
Robin Segal is a mother and grandmother, living an active life and treasuring her time with family.

February 27, 2023 • 5 min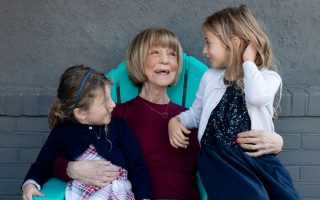 English | Español
Robin Segal started a new tradition a few years ago. She blows out her birthday candles every year with her two young granddaughters, Mila and Stelly, on Thanksgiving weekend. The three share birthdays around the same time in December.
It is during family gatherings like these — having long conversations after a big meal with her daughters or walking along the beach on summer days — that Robin often pauses and gives thanks for her life of more than 70 years.
Decades earlier, her future as a mother and grandmother were not a given. When she was in her early 20s, Robin was diagnosed with cancer and underwent radiation treatment at St. Jude Children's Research Hospital. The specialty hospital in Memphis was a decade old at the time.
"The hospital gave me a great gift, many gifts I should say," she said. "I am able to live my life, I have a beautiful family and I could not ask for more. I often think, 'Look how lucky I am.'"
Since her time as a cancer patient, Robin has lived a life filled with important milestones and ordinary moments. She built a career in retail, fell in love, married and gave birth to two healthy daughters. She chose to be an at-home mom while her daughters were growing up in New York City, a period when days were filled with play dates and school and swimming activities.
She later divorced, returned to work, and now has an active life which includes working at a periodontist office and going to the gym most days. When she visits her granddaughters in Maryland, she likes reading and going to the playground with them.
"I really like to go along with their imagination, and what they come up with is fascinating," she said. "Their presence is amazing to me, and I just can't get enough of them."
Her oldest daughter, Pamela, describes her mother as resilient and someone who has not forgotten her Southern roots, and is always polite and hospitable. Her mother also has not forgotten her time at St. Jude, and its importance in all their lives.
"It's a place where miracles happen," said Pamela, who recalls being an elementary school student when she first raised funds for St. Jude at a Read-A-Thon. "It has allowed us to be alive, to be born, and that is the most amazing part of it. There is a ripple effect to think about and the impact it has had beyond that one individual."
A new move interrupted by cancer
Robin was 21 years old when she went out on her own to New York City, thousands of miles away from her home state of Mississippi. A young woman with a future of endless possibilities. She knew no one in the Big Apple, but her father had grown up there and moving was a dream come true.
A year after her big move, while talking on the phone, Robin placed her hand on the left side of her collarbone and felt a lump. It prompted her to make a doctor's appointment. The first and second doctor she saw described the size of the lump as pea-sized and indicated it was nothing to worry about and would likely go away.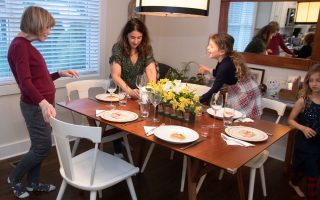 When she visited Mississippi a few months later, her parents took her to the family doctor, who said the lump, now the size of a pecan, did not seem right and scheduled its removal. Biopsy results came back showing Robin had Hodgkin lymphoma, a cancer that starts in the lymph system and causes affected lymph nodes to get larger.
"Am I going to die, am I going to be able to live through this?" Robin recalled her first thoughts after hearing the diagnosis. "I remember the fear I had."
Robin's father, Burt, wanted a second opinion, so he drove the results to Methodist Hospital in Memphis, about 75 miles away, where the diagnosis was confirmed.
"And then our journey started," Robin said.
It was 1972, and their family doctor knew about the work happening at St. Jude. The doctor told her parents the hospital was studying Hodgkin lymphoma and she was referred to St. Jude.
"They were willing to take me on as a patient, and...I went through the whole process of tests," she said.
Her father went to the billing office the first day to pay for his daughter's tests.
"We didn't know that at St. Jude you didn't pay for treatment, so he had no idea," Robin said. "At the billing office, they said this is something we do for our patients."
Doctors at St. Jude found that the cancer was localized in Robin's upper torso, and recommended she receive 30 aggressive treatments of radiation, she said.
Robin said her treatment also involved surgery to remove her spleen and appendix. For a little over a month, she recalled that she and her mom would travel to Memphis every week for radiation therapy and stay at a hotel paid for by St. Jude. She remembered, at the time, the hospital was in one building, and surgery was performed next door at St. Joseph's Hospital, which was located there at the time.
Robin remembered that St. Jude was connected to the other hospital via an underground tunnel.
She also recalled a sense of community among St. Jude patients and their families.
"It was always a kind and warm place," Robin said.
After she completed treatment, doctors told Robin she was better and would have to return for yearly checkups.
"I started to see my local doctor in New York, which is what I did, and here I am 50 years later, so it's pretty amazing," Robin said.
Resuming life
Robin married a few years later, and then gave birth to her daughters. She volunteered to help raise funds for St. Jude and attended a fundraising event while pregnant with her oldest daughter. There, she met Danny Thomas, founder of St. Jude. At the same time, her father organized events in Mississippi to fundraise for the hospital.
These days, Robin participates in St. Jude LIFE, a long-term follow-up study. The research study brings childhood cancer survivors back to St. Jude for regular health screenings throughout their adult lives.
"It's not only a learning tool for them, but also a learning tool for me, to learn things that are going on with me that I otherwise would not know," she said.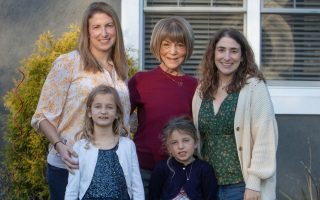 Soon after the start of the COVID-19 pandemic, Robin reached out to doctors at St. Jude because she was worried about virus exposure and what it could mean for her. They explained what she should do to keep safe.
"They are just a phone call away," she said.
Her youngest daughter, Victoria, said what stands out is how St. Jude remains part of her mother's life. She has seen her mother on the phone on long doctor's calls.
"The fact that they still support past patients and use that research to further the success stories of current patients is what is incredible," Victoria said.
Robin said she and her family are in awe of the work and advancements made at St. Jude to help children with cancer. Several members of her family and extended family continue to participate in events that raise awareness and funds for the hospital.
"I've got my life and I was very lucky," Robin said. "To see the growth of the hospital since my first encounter with it and what it has become today, and all the work that they do, it's just pretty amazing."