What Michael Strahan gets in return for giving to
St. Jude

teaches him important lessons about life

Since his first visit in 2010, Michael Strahan has been a relentless supporter of St. Jude Children's Research Hospital. Strahan, a dominant pass rusher with the New York Giants for 15 years and two-time Emmy winning television host, continues to be inspired by the kids of St. Jude.
I wasn't sure what to expect the first time I visited St. Jude Children's Research Hospital in 2010 when FOX Sports teamed up with St. Jude to help kids sidelined by cancer and other deadly diseases.
Along with other NFL on FOX on-air personalities including Troy Aikman, Terry Bradshaw and Joe Buck, I toured St. Jude and its research facilities and met medical staff and researchers.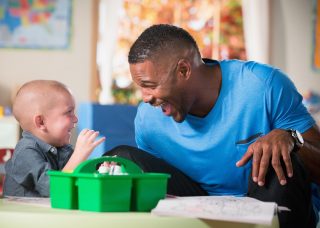 I think all of us came in with preconceived ideas that we were going to leave kind of down, that it would be sad.
It wasn't like that.
Even though I'm a big guy, 6-foot-5, the kids didn't shy away from me. They hugged me around my knees and climbed up onto my lap.
They wanted to have fun. They wanted to smile. They wanted to laugh, and they're able to do it through some of the worst circumstances that you can imagine.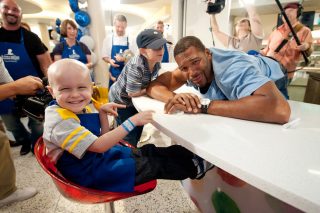 I learned so much that day from the kids. Their parents and the medical staff gave me joy and hope in a place where you would think those would be the hardest things to find.
Ever since then, I've been in, completely in, for St. Jude.
Since that first visit 12 years ago, I've been an avid supporter of St. Jude, selecting St. Jude as the beneficiary of my charitable events, and volunteering for St. Jude fundraisers, including the annual St. Jude Thanks & Giving® campaign.
While I had heard about St. Jude before my first visit, I learned so much I hadn't known. That families never receive a bill from St. Jude for treatment, travel, housing or food. How St. Jude shares its research and protocols globally.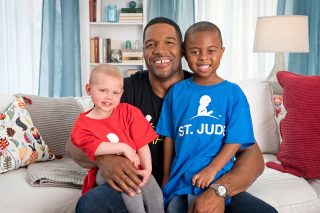 Sharing the research is really amazing because that's something a lot of people really don't do. It shows me that the heart of St. Jude is to make sure that childhood cancer is cured and eradicated around the world. They're doing their best to do it.
Since 1962, treatments invented at St. Jude have helped push the overall childhood cancer survival rate from 20 percent to more than 80 percent today. That's a testament to all the work that St. Jude has been doing.
Lessons learned at St. Jude
The more time I've spent at St. Jude, the more I've learned, especially from the kids and their families.
I've learned about smiles, even through the toughest times. All these kids are going through something I can't even imagine, but they all come in with this joyful spirit.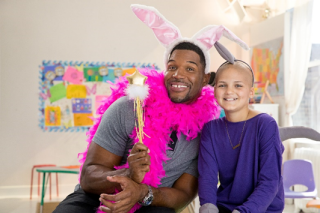 From them, I've learned that every situation you're in, your attitude is the one thing you control about how you deal with it. It's humbling.
My work for St. Jude has been a privilege — and a whole lot of fun.
I'm like a big kid when I meet with patients at St. Jude, cracking jokes and playing dress-up and hide-and-seek, my big feet sticking out from behind the couch giving away my hiding spot.
I ask them about school and tell them math is my favorite subject, too, but I tell them, "Don't ask me to help you with your homework because I'm sure you're smarter than me."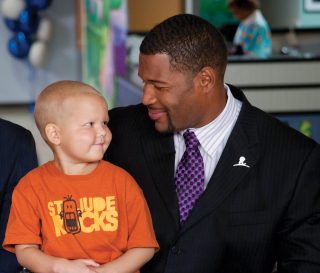 The best part is all the hugs. I've had unlimited great hugs.
The truth is, I'm getting more than I could ever give them. For that, I just want to thank them and their parents for allowing me to be a part of their journey through a trying time.
They inspire me with their courage and determination.
'This is about life'
The families of St. Jude remind me that no one makes it through life alone.
My success or anything I've done in my career, it's because I've had incredible people behind me, supporting me. Through their support, I've learned how to support St. Jude, how to support other people who need help.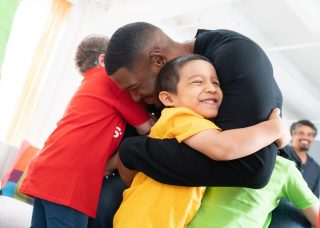 My advocacy for St. Jude is bigger than any career move. This is about life. This is about families. Keeping those families whole.
For each kid that St. Jude can help, for each family that St. Jude can help, that's as if you have somebody holding you up in your life.
We're just trying to do our best to hold them up.