Inspiration4 reveals final two crew members for all-civilian mission to space benefiting
St. Jude
Dr. Sian Proctor and Christopher Sembroski will take the remaining two seats on the Inspiration4 spaceflight launching later this year.

March 29, 2021 • 2 min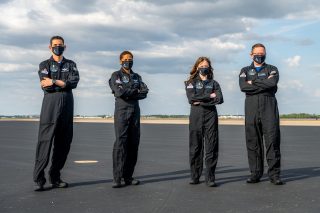 A science educator who dabbles in art and an Air Force veteran have been chosen as the remaining two crew members for Inspiration4, the all-civilian mission to space launching later this year to benefit St. Jude Children's Research Hospital.
Dr. Sian Proctor, of Phoenix, Arizona, and Christopher Sembroski, of Everett, Washington, will be part of the historic space voyage. They join Jared Isaacman, the 38-year-old founder and CEO of Shift4 Payments who will command the flight, and Hayley Arceneaux, a 29-year-old physician assistant and childhood cancer survivor.
The crew of four will blast off later this year from NASA's Kennedy Space Center in Florida aboard a SpaceX Dragon spacecraft atop a Falcon 9 rocket. They will circle the globe in low-Earth orbit on a mission that is expected to last three days. The mission will raise money and awareness for St. Jude Children's Research Hospital.
"Inspiration4's goal is to inspire humanity to support St. Jude here on earth while also seeing new possibilities for human spaceflight," said Isaacman. "Each of these outstanding crew members embodies the best of humanity, and I am humbled to lead them on this historic and purposeful mission and the adventure of a lifetime."
Isaacman, who represents the mission pillar of Leadership, has committed $100 million to St. Jude — half the projected fundraising total from the mission. He allotted the other three seats to crew members representing the mission pillars of Hope, Prosperity and Generosity.
Arceneaux, who was treated at St. Jude for bone cancer as a child and now works there as a physician assistant, was selected for the Hope seat last month.
Proctor, a 51-year-old entrepreneur, educator and active voice in the space exploration community, was awarded the Prosperity seat by being selected as the top entrant of an independently judged online business competition that attracted approximately 100 entries and was conducted by the eCommerce platform Shift4Shop.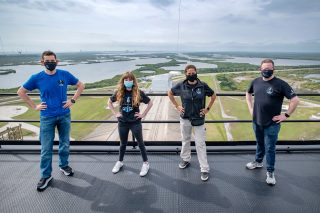 A lifelong explorer who was born on the island of Guam, she is a geoscientist and pilot who became a finalist in the NASA astronaut-selection process in 2009, later serving as an analog astronaut on missions simulating space flight.
"This opportunity is proof that hard work and perseverance can pay off in unimaginable ways," Proctor said. "I have always believed that I was preparing for something special, and that moment has arrived with Inspiration4."
Sembroski, 41, will represent Generosity on the mission. He contributed to a special fundraising campaign for St. Jude Children's Research Hospital that offered an Inspiration4 seat to a lucky donor after receiving nearly 83 million entries.
He has served in the U.S. Air Force and volunteered for deployment to Iraq. He now works in the aerospace field.
"Although I've been fortunate to have spent years in the aerospace industry, I never imagined having the opportunity to reach the stars, especially through something as simple as supporting St. Jude," Sembroski said. "I am honored to occupy the Generosity seat and look forward to using this platform to encourage everyone to be generous to others in whatever ways they are able."
To get involved in the Inspiration4 mission, visit stjude.org/Inspiration4.