No matter where, no matter when, your support means so much to the kids of
St. Jude
Virtual events like marathons and walks have the power to connect supporters to our lifesaving mission the world over.

May 27, 2021 • 3 min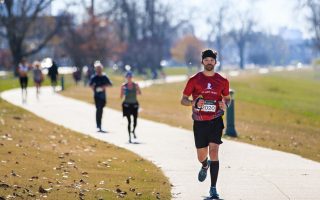 When signature events like St. Jude Walk/Run and St. Jude Memphis Marathon Weekend went virtual last year due to COVID-19 safety precautions, what I missed most were the start lines.
That moment just before the starter's horn sounds when a sea of supporters lines up, eager to run or walk with purpose. There really is no better visual representation of hope and unity.
As general registration opens this week for the 2021 St. Jude Memphis Marathon Weekend — the 20th anniversary of the event — I look forward to our events resuming in some way, in some fashion, to help cement the bond we have as supporters of this mission.
While these events may look different with capacity possibly capped for safety reasons, we keep in mind the lessons of last year and its dynamic reminder that you can't put a limit on people's generosity and compassion.
While a marathon might be 26.2 miles, supporters around the world proved they'd go any distance for the mission of St. Jude Children's Research Hospital. Through the reach of social networks and digital outreach, marathon weekend, our largest single-day fundraiser, registered 15,000 participants worldwide, including more than 6,000 who were new to the event. And St. Jude Walk/Run events saw participants from all 50 states and seven countries.
Childhood cancer is a global concern, our mission a global effort. Our events, meant to connect supporters and raise funds and awareness to fuel that mission, must be global as well. That means ensuring St. Jude Heroes have the opportunities to participate when and where they are.
Rebecca Krynski Cox ran for the first time as a St. Jude Hero in Lucerne, Switzerland, some 5,000 miles from Memphis. If you haven't yet, I recommend watching her video, the views are stunningly beautiful.
But so is her commitment, and the commitment of St. Jude Heroes everywhere who train and commit so much time and energy to kids in need. Empathy like Rebecca's shrinks the world. It brings us all closer under the umbrella of humanity as one child's pain becomes all of ours to bear. Last year brought our first lessons in a truly virtual world and what we took from it is that heart, compassion and a commitment to help, just like childhood cancer, have no boundaries.
For those of us who work so closely with the mission, these levels of engagement are humbling, especially coming as they did during a year with so much uncertainty, when so many had their own worries and responsibilities.
I truly hope we'll be together again in Memphis this December, lined up and ready to start and finish — together — for the kids. But even if you can't run through the St. Jude campus where patients and parents, scientists and staff cheer you on — know they're cheering for you regardless of where you run. They're with you through narrow European streets with views of centuries-old fountains and among fields of friendly goats in the Swiss Alps.
I hope you know just how grateful we are, and that we learned so much from all of you last year. And just how much we look forward to seeing you return safely to Memphis in December.
We also welcome those around the world who won't be here physically, but spiritually. Those who will lace up to run where they are, when they can, for a mission dependent upon the generosity of so many.