Mission driven
The man who drives our mail van embodies the hope of
St. Jude

and our path forward.

August 07, 2020 • 2 min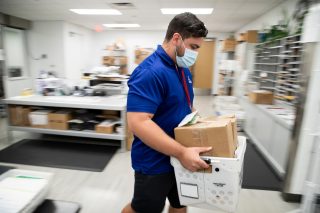 Amid the precautions we take for the pandemic, especially social distancing, I'm even more grateful for the people I get to see every day.
That includes Carlos Rodriguez. He began working in the ALSAC mail room the year after I became CEO, and our conversations in the hallways or on campus are often brief but always life affirming.
For me, Carlos is another reminder of the power and hope of St. Jude Children's Research Hospital. You see, he's a survivor who came to St. Jude in 1996 from El Salvador for leukemia treatment at just 4 years old.
During biopsy surgery in a hospital near his hometown, a storm raged outside, and he remembers water dripping down on his head from the light fixture above as he went under anesthesia. Soon after, he transferred to Benjamin Bloom Children's Hospital in San Salvador, which connected him with St. Jude.
When I see Carlos the adult, I think of Carlos the child, as the water dripped down on him. I think about his fear, but also about the trust he soon placed in us – the grownups.
That trust was not misplaced.
At that time, we were just beginning a relationship with Benjamin Bloom to help kids with cancer in San Salvador. St. Jude had made great strides in improving the survival rate for some children, but the majority of children throughout the world were still dying from treatable cancers.
Today, we're doing so much more with a pledge to raise the global survival rate on six common childhood cancers to 60 percent – it's 20 percent now in low and low middle income countries – by 2030.
Where a child lives should not determine that child's health care outcome.
So, when Carlos delivers the envelopes containing your donations, he's not only delivering hope, he IS hope – and affirmation the mission you so generously support is a good one.
In changing times like those we find ourselves in today, the St. Jude mission guides us. It sees us through and helps dictate our response to events and makes us durable to change, to hardship.
We will keep treating the children who come to us regardless of race, creed, color or any of the other things that threaten to divide us in a deeply divided world. You help make it so.
"Will I be OK?" a child asks his parent earnestly upon hearing a cancer diagnosis. "Estaré bien?"
It doesn't matter the child, or where the child lives, or the language, because of our shared humanity. The answer we want to give – that we will always continue working so hard to give – is the same.
They're the words I'd say to Carlos the boy, if I could:
"You'll not only be OK, you'll be amazing." "No sólo estarás bien, sino que serás increíble."
Richard C. Shadyac Jr. is President and CEO of American Lebanese Syrian Associated Charities, the fundraising and awareness organization for St. Jude Children's Research Hospital.