Becoming Bertha: Growing up through cancer treatment
Undergoing cancer treatment for a second time at 16, Bertha found makeup and music to be outlets for self-expression.

August 13, 2020 • 3 min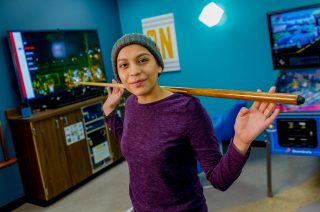 Beauty is not in the face; beauty is a light in the heart. – Khalil Gibran
People say a lot of things about beauty. It's in the eye of the beholder; it's only skin-deep. Bertha has always had her own ideas about it, remarkably mature ones. "Being pretty was always just how I felt in my skin, being comfortable," she says. Bertha, beautiful by any metric, determined she was "pretty enough" and didn't think much more about it.

But in 2014, as Bertha's quinceañera approached, glam was certainly on her mind. Her pink and white dress was strapless and ombre. There were 200 guests, and a band brought in from out of state. She did un baile sorpresa, and went to greet each table accompanied by a court of seven young men. It was un fiestón, and for good reason: It was coming two years after Bertha was diagnosed with bone cancer.
At 13, one day after school, Bertha showed her mom the lump that had grown on her hip. "I asked her if it was normal and she told me that it definitely wasn't. She was really concerned," remembered Bertha. So were the doctors who looked at it next.
It was Ewing sarcoma, aggressive and extensive. After about a year of treatment at a hospital in her area, she was cancer-free and reclaiming her life – starting to feel "normal," getting together with friends more, taking part in community events. Cancer was behind her, and the future lay ahead.
That's what she thought as she danced at her quinceañera.
But after two years in remission, Bertha's lower back started to hurt near where the tumor had been, raising an alarm. An MRI showed a mass the size of a grapefruit. This time, Bertha was referred to St. Jude Children's Research Hospital.
It's not that the first bout with cancer was easy. It wasn't. But this time, Bertha was older, and had already lost so much time to being sick. "At 16, there's so much that you want to do," she said. "You want to join clubs at school, and you're starting to go out, and starting to explore the world more." And then cancer comes, and presses pause again. If you're lucky, it only presses pause.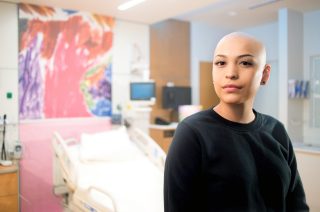 Bertha now had to revisit not just the physical pain of treatment, but the emotional trauma, too. The loss of the growing independence and the identity she'd just begun to construct. Bertha was boomeranged back into the role of cancer patient.
But at St. Jude she discovered outlets for self-expression that helped her hold on to the person she was becoming. One was music, which she came to through the St. Jude music therapy program.
"I was trying to find new ways to keep my mind busy and I just discovered that I was pretty decent at music," she said, in her typically modest style.
Another was makeup. Bertha hadn't really worn makeup since her quinceañera, but at St. Jude, she said, "I felt like a canvas. Being a cancer patient, you lose your brows, you lose your color, you lose your hair. I was never a wig person and so I felt like whenever I did my makeup, instead of people looking at my bald head, they'd be looking at my face."
She experimented with bold makeup "not because I'm insecure, but to have some personality, to have a little bit about me," she said. To choose, during a vulnerable time, the face she would show to the world; and it would be a radiant one.
Bertha still plays piano, sings and dabbles with guitar. In fact, she's minoring in music while pursuing a major in early childhood development, with an eye toward becoming a Child Life specialist. "I feel like St. Jude has a lot to do with that," she said.
Her other form of self-expression during treatment – dramatic makeup – is typically reserved for special occasions now. Cancer treatment changed Bertha's perspective in some ways, but of this, it only convinced her more: "It's not the outside that matters, it's the beauty of one's inside that counts."