St. Jude

offers comfort, support for dads on their special day and year-round
On Father's Day, we honor dads and father figures as they love and care for their kids during challenging days of treatment.

June 17, 2022 • 3 min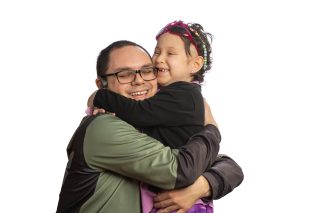 As a father myself, I look forward to Father's Day. I spend time talking with my two adult kids, Coury and Tim, and looking back on time spent with them and with my dad, one of the founders of St. Jude Children's Research Hospital and ALSAC with Danny Thomas, who paved a way of service and selflessness for me and so many others.
But I also think about the kids at St. Jude and our partners around the world. As we celebrate this weekend, let's not forget the dads and father figures pacing the hallways and sitting bedside at St. Jude. They're worried about their kids and about the days ahead.
These are dads like Mario, who traveled with his daughter, Luna, to be treated for acute lymphoblastic leukemia. He said goodbye to his wife and son in Guatemala, arriving in a place where he didn't know anyone.
It takes strength and trust to leave the life you know for an outcome that can't be promised.
But it also takes an unknown amount of courage to say goodbye, and my heart is heavy this Father's Day for those dads in Ukraine who couldn't leave with their kids as they traveled to countries throughout Europe and North America, some here at St. Jude, to be treated for cancer.
Thanks to our supporters though, parents around the world can find strength and comfort at St. Jude.
And sometimes providence smiles and they find each other.
David and Dan met in the proton center waiting room at St. Jude. It turned out they were both from Fort Worth, Texas. They both had daughters. And both those daughters had brain tumors. The fathers became fast friends over coffee and a shared experience rooted in anxiety and uncertainty, but also in empathy and support.
David said, "We could tell each other that we were scared, that we were sad. We were able to be vulnerable."
Strength and fortitude are often synonymous with fatherhood. We're there to scoop our kids up when they fall off a bike or take a tumble on the playing field. But seeing your child frustrated or sad or hurt, physically or mentally, is never easy.
That's why St. Jude, in those dark days, is here for parents to lean on. Here to ease the financial burden of treatment. Here to explain the how and why of procedures. Here to give hope when everything looks hopeless.
Sometimes, hope comes with a cup of coffee and you, our generous supporters.
David and Dan, and a few other dads they met along the way, still get together. They lean on each other. They find strength in community. They talk about things St. Jude dads have in common.
"They know what the feeling is. They've gone through it," Dan said. "What I truly love about it with those guys is there's nothing we can't say to each other."
This Father's Day, St. Jude supporters everywhere offer father figures and dads like Mario, David and Dan a shoulder to lean on and a word of comfort, just as we offer a prayer to those dads who have lost children to cancer and other diseases.
We wish them and their families only the best. And we thank you for all you do for the St. Jude mission, so dads and moms alike can focus on helping their child live.