Love, care and awareness month for brain cancers and tumors
During May, and year-round, we remember those saved and those lost to cancer and other life-threatening diseases.

May 13, 2022 • 3 min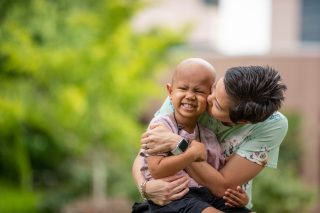 On the day Stephanie learned her son was one of the more than 400 children diagnosed with medulloblastoma in this country each year, she said "My heart dropped."
The most common malignant brain tumor, it's a devastating disease. A diagnosis can turn families' lives upside down. Until that fateful day — before his mom's heart dropped with the weight of it all — 3-year-old Lucas' time had been spent playing outdoors, taking family walks and fishing with dad.
Now, his days would include chemotherapy, radiation therapy, MRIs and surgery. And one very special No More Chemo party.
During May, as we focus awareness on brain tumors and cancers, we keep moms like Stephanie in our thoughts and in our hearts. Because hearing those four words — your child has cancer — is truly heart-dropping.
But it isn't just one month here at St. Jude Children's Research Hospital. With some of the brightest scientific minds and dedicated doctors anywhere, and thanks to generous support from all of you, St. Jude ceaselessly works toward a better understanding of and treatments for pediatric brain cancer and tumors — today, tomorrow and year-round.
Much of that understanding is thanks to the leadership of Amar Gajjar, MD, Chair of the Department of Pediatric Medicine and Director of the Division of Neuro-Oncology.
The St. Jude Neurobiology & Brain Tumor Program was in its infancy when Dr. Gajjar came here more than 30 years ago. He's since authored more than 370 papers. He's the Scott and Tracy Hamilton Endowed Chair in Brain Tumor Research and this summer will receive the prestigious ASCO Pediatric Oncology Award.
Under his watchful eye, the brain tumor program is a worldwide leader in medulloblastoma therapy and research today, using a bench-to-bedside approach, translating discoveries made in the lab with better care for patients in treatment.
We're grateful for St. Jude supporters whose compassion and generosity allow such collaboration. It means a second chance at life to kids like Lizzie.
When the 18-month-old was screened for crossed eyes, Lizzie's mom found herself someplace she never expected — the oncology ward at her local hospital. "I remember thinking oncology means cancer, and why are we standing here with my baby … it was the shock of my life,'' Mary said.
After three years of chemotherapy at her local hospital for optic nerve glioma, a slow-growing brain tumor in or around the optic nerve, Mary was devastated to learn the tumor had only grown.
At St. Jude, Lizzie participated in a protocol for a new drug that would get into the brain where the tumors are located better than other available drugs could. Her mom was so grateful to find hope "at that point we felt like there was no other option."
This is why your support is so important and, with you by our side, St. Jude will tackle difficult-to-treat cancers as part of its six-year, $11.5 billion and growing strategic plan to raise overall childhood cancer survival rates here and around the world.
Lucas wound up 2021 at St. Jude with a No More Chemo party after spending most of the year undergoing 30 radiation treatments and seven cycles of chemotherapy, among other procedures. These treatments were unheard of 60 years ago when St. Jude first opened, but available now thanks to you.
The new medication Lizzie is taking has steadily shrunk her tumor, and today she's back at home where she continues with the protocol, but has also started kindergarten, takes jiu-jitsu classes and has celebrated her 6th birthday.
Decades of research at St. Jude — of collaboration and innovation, successes and failures — have gone into treatments to advance the care of patients with brain cancer and brain tumors. The measure of that work is found in the stories and seen in the smiles of kids like Lizzie and Lucas, and in survivors who have gone on to realize their dreams and impact the world in their own unique ways.
But many have not survived, and we remember them especially during May. They remind us there is much more to do and we're so grateful to have you by our side on this journey.