Jared Isaacman and Polaris Dawn inspire
St. Jude

supporters, patients
Stories of great courage and purpose instill a sense of service and selflessness in future generations.

July 27, 2022 • 2 min
On a special night on our campus in Memphis recently, we honored Kayla Anderson and Carter Gonzalez, two Colorado high school students, with the Jerry Nicholson Award as part of our ALSAC/St. Jude volunteer awards program.
Jerry was a patient from California who led fundraising campaigns in the 1960s when St. Jude Children's Research Hospital was just getting underway.

Kayla and Carter have Jerry's same drive and dedication to the mission.

See, they took a 2021 math assignment to new heights, vowing to ski 70,000 vertical feet and raise $7,000 in support of St. Jude. Our awardees went above and beyond with a total of 190,000 feet over two outings and $21,000 raised. We are so grateful for their courage and compassion.

In her acceptance speech that night, Kayla spoke about being a military kid and how it taught her that "service before self is incredibly important." She talked about inspiration. Specifically, a video she saw of Jared Isaacman, commander of the Inspiration4 and upcoming Polaris Dawn missions to space.

"Something that really resonated with me when he had his interview at the Air Force Academy was that when you have the opportunity to do something great in this world, that you have to make it greater than yourself. That's something we were really passionate about from the get-go," she said.

This is just one example of the impact Jared has on our mission. Not only has he helped raise around $250 million and untold awareness for St. Jude, but his selflessness is inspiring the next generation to give back and strive for a purpose greater than self in school, career and life.

We saw it when St. Jude cancer survivor and physician assistant Hayley Arceneaux joined Jared and Inspiration4 for the first all-civilian mission to orbit Earth last year.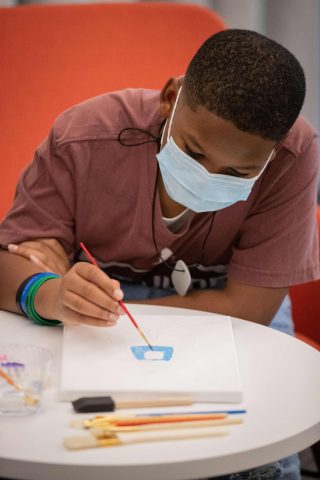 And we saw it again last week when the Polaris Dawn crew toured St. Jude and met with a small group of patients that included Quincy, a promising songwriter and singer who came to St. Jude to be treated for Wilms tumor, cancer of the kidneys.

The crew talked about space walks and research planned for the mission later this year. They answered questions and mission pilot Scott "Kidd" Poteet told Quincy and his friends, "We may be an inspiration to you, but you're an inspiration to us."

It's easy to be inspired by kids like Quincy who, as he looks to the future and a galaxy's worth of possibilities, hopes to one day be a doctor at St. Jude and give back to the institution that saved his life by helping patients just like him.

When inspiration and purpose come together, lives are changed — and saved — and the world itself becomes a whole lot better. We saw it 60 years ago when Danny Thomas opened the doors and gave St. Jude to the world, and we see it in the crew of Polaris Dawn as well — Jared, Sarah Gillis, Anna Menon and Scott — who give us a glimpse at the possibilities that lie beyond.