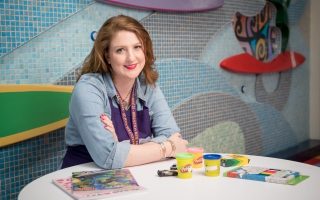 Kelly Adkins has been a Child Life Volunteer at St. Jude since August of 2009. On a typical shift, she can be found in the Diagnostic Imaging waiting room engaging in activities with kids before their appointments.
"It's my job as a Child Life Volunteer to make a child's time spent waiting in my area easier," she said. "It's hard for an adult to wait around in a hospital all day, I can't imagine what it is like for a child. I'm there to make their time in my area more bearable, and I hope, enjoyable."
Even though Adkins' first shift was years ago, she still remembers it like it was yesterday.
"On my first day, I was nervous that I wouldn't know the right thing to say or do when I interacted with a patient," she said. "My Child Life Specialist left me alone with a patient in the preteen room. The patient was 13 years old and had been a patient at St. Jude his entire life, enduring many relapses of cancer. He saw right through me and could tell I was nervous. He told me that I would meet so many nice people, and that I was where I needed to be. He was right."
Eight years later, Adkins still thinks of how that first interaction with a patient has affected her entire experience volunteering.
She says she plans to continue volunteering and is thankful for the opportunity to volunteer at St. Jude.

"At St. Jude, you find yourself surrounded by people who care about something outside of themselves and have a sincere desire to help others in the biggest and smallest of ways," she said. "As a volunteer, I have had the honor of playing a small role in a place that has made an immeasurable impact on the world in which I live."