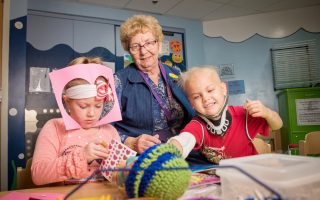 After spending almost 17 years volunteering at St. Jude Children's Research Hospital, Doris Burton still finds her visits to the hospital to be the best part of her week.
In 1968, she had come to the hospital for a very different reason. Her young son had a tumor. Burton asked God to save her child and in return, promised she would come back to volunteer. This year her son will be 59 years old, and Burton still honors her vow.
Although Burton has had several different volunteer positions during her time at St. Jude, she is currently a Child Life volunteer and a member of the St. Jude Auxiliary. One of her favorite memories was from her time spent at Target House. Burton had always been an Elvis Presley fan and even got to meet him and get his autograph. One day, she was sitting at the front desk and overheard a patient talking about his Elvis-themed room back home and how much he loved Elvis. The next day, she brought in the autograph she had received from Elvis and gave it to the child.
"The look on his face when I gave him that autograph is something I will never forget. I had refused to sell the autograph because I had this feeling that I needed to keep it. When I heard this boy talking about Elvis, I knew this was why I had been keeping it all these years," Burton says.
Burton reflects on what the hospital has done for her and how she can use her personal journey at St. Jude to give back.
"Because I have gone through this experience, I try to reach out and connect with new patients and their families," she says. "I tell them my story, and let them know that there is hope, which is what St. Jude is all about."