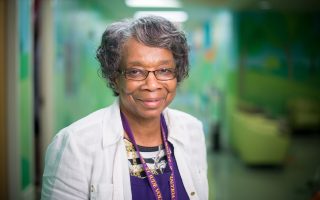 Fannie Brown grew up watching Make Room for Daddy and was inspired to join Danny Thomas' cause by doing her part to help children with cancer and other life-threatening diseases. After retiring from her full-time job in 2006, Brown made good on her promise and walked through the hospital's doors as a St. Jude Children's Research Hospital volunteer.
Her first assignment was as a child life volunteer in the Medicine Room, the outpatient infusion center for St. Jude patients. She met and immediately connected with patients and their families.
"There was a little girl whose mother requested that I stay with her daughter every week whenever she needed a break," Brown says. "Her request made me feel good and reassured me that I was doing the right thing."
Brown moved from volunteering in the Medicine Room to working her current shift in the Bone Marrow Transplant unit. Each Wednesday she begins her four-hour day by visiting patients' rooms to gauge their daily needs. Sometimes, children request toys or books from the play room, while other times they invite her to play video and board games or participate in craft activities while their parents take a break.
"They have a way of keeping me young at heart," she said.
She recalls a moment with a reticent but friendly child who loved the movie Charlie and the Chocolate Factory. Getting the patient to talk was like moving a mountain, but before long the child felt comfortable with Brown and recounted the movie from start to finish.
"I told him that they would have had a problem getting me out of the chocolate factory. I would be screaming and holding onto everything to stay there," she said. "This really put a smile on his face, and it was one of the best rewards I could have ever received."
Then there was the child who loved her special royal experience with Fanny.
"She wanted to do arts and crafts in her room, so we made a crown and placed jewels on it. When we finished, I crowned her queen for a day. She wore her crown with pride, with a smile on her face and with sparkles in her eyes," Brown said.
These highlights are indicative of Brown's love for St. Jude and for those who benefit from its world-class expertise.
"They help me keep things in perspective and focus on what's really important in life. I have the opportunity to meet so many wonderful people who teach me how to live, laugh and love every day," Brown said.