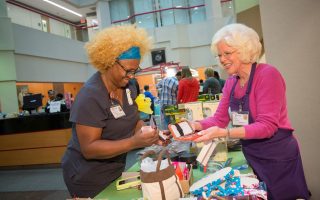 Jenny Bledsoe is a recognizable face in play areas at St. Jude Children's Research Hospital. Known as a crafts aficionado and the lead organizer of the hospital's annual Auxiliary Bazaar and jewelry sales, Bledsoe is just as committed today as she was when she began visiting St. Jude in 1983.
A school teacher for 14 years, Bledsoe began volunteering at St. Jude with her professional teachers' association. They worked in play areas and operated a small library program. At that time, she took a yearlong sabbatical from teaching and continued her volunteer work at St. Jude. "It filled the void left by teaching," Bledsoe said. "I enjoyed it so much. I just wanted to be at St. Jude for the children."
She used art as inspiration for patients who did not have normal school experiences because of their treatments and hospital stays. Bledsoe assisted in operating a playroom before the Child Life program was formalized in 1994. Bledsoe's art projects are popular with patients on the Solid Tumor inpatient unit. She puts together special art projects each week, including painting wooden picture frames and umbrellas, making beaded key chains and jewelry, and decorating hats and visors.
"After working with so many children at St. Jude, I've learned that they are incredibly courageous. They can deal with their uncertain futures and, at the same time, be a comfort to those around them. They have a pure sense of the important things in life. We could all benefit from this lesson," she said.
Bledsoe, the 2008 winner of the Sheryl K. Nienhuis Memorial Volunteer Service Award, has served as president of the St. Jude Auxiliary and is the longtime chair of the club's annual holiday bazaar. Over the years, the Auxiliary has raised thousands of dollars to benefit St. Jude patients.
"St. Jude is a place where you really see and feel the impact that you're making. The staff – from housekeeping and plant management to our amazing researchers, doctors and nurses – is like one big family," she said. "Each of them demonstrates every day that they believe in and are a part of the St. Jude Dream Team. It is an honor for me to be a part of this team."