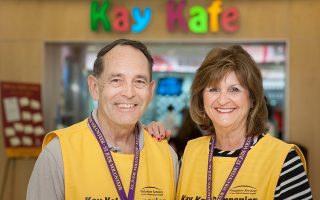 John and Vicki Brown have been volunteering as Kay Kafe Companions since 2013.
"We have a desire to give to those less fortunate.  The fact that no patient has to pay for their treatment is made possible by the gifts of money, time and talent of many," said Vicki. "We just wanted to be two more people who contributed to make that continue to happen."
John and Vicki had fears of being overwhelmed with emotion when seeing children with cancer, but John said, "After having interacted with the families, we realize that St. Jude is a happy place…a happy place because there is hope, and families know they are in an amazing place and the best place for treating childhood cancer."
The Browns are both retired.  They enjoy playing water volleyball with friends, going on sightseeing trips and taking relaxing trips to the beach.
"We feel that our lives have been enriched so much by being St. Jude volunteers," Vicki said. "Being a volunteer has a way of putting things in perspective for us.  We hope that we have contributed to St. Jude, but honestly, we sometimes feel as if St. Jude has contributed more to us."