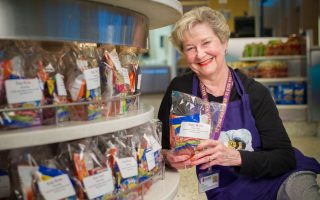 Pat Boysen began volunteering at St. Jude Children's Research Hospital in 2011 assembling snack packs for the patients. She gets to interact with lots of patients and their families either in the Kay Kafe or the hallways.
 "I am uplifted just being at St. Jude," Pat said. "I can't imagine that anyone who comes in the building could not sense the upbeat, positive feelings that are prominent there."
She became interested in St. Jude through her son Chris who has worked for ALSAC for 20 years. From Chris, she understands the importance of the work done by St. Jude and ALSAC.
Pat said, "I feel I'm part of an army of volunteers, workers and employees all joined together with a common goal: helping sick children get well."
"I love working with Food Services," she added. "I look forward to seeing them each week and am proud to call them dear friends."
Pat spends her free time being a housewife, caregiver and Stephen minister through her church. She enjoys spending time with family and friends, and being able to do things she was unable to do while working a full-time job.