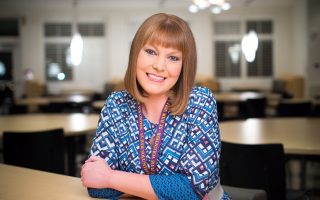 "This was a day to forget about cancer and be a princess for the day," says Target House volunteer Elizabeth Colhoun describing the popular Tea Party event she helped create, which has attracted over 40 participants.
"We had tea in teacups along with yummy cookies, and the children dressed up as their favorite princess. Seeing the joy on the children's face is something I will never forget," she adds, describing her favorite memory as a volunteer.
Elizabeth has been a volunteer at Target House for three years, where she heads their monthly craft night and assists in serving dinners and with Camp Wishing Well. Her passion for volunteering does not stop there, as she also gives her time at Make-A-Wish, Ronald McDonald House and through the St. Jude Auxiliary Club.
"I have always known that I wanted to give back in some manner, and children have a special place in my heart," Elizabeth says. "St. Jude truly makes the children's best interest their No. 1 priority."
When Elizabeth is not volunteering, she is urging others to volunteer.
"If I can do it, anyone can do it. You never know whose life you are going to touch, and I can guarantee your own life will be touched by giving your time to the children of St. Jude," she says.
"This experience has made me more thankful for each day I am given," she continues. "The children truly give me strength, and their smiles encourage me to face any obstacle in my own life no matter what. They are heroes in my eyes."
Elizabeth continues to find opportunities to affect others at St. Jude, and her dedication inspires many to make a difference. "If you can't figure out your purpose, figure out your passion – for your passion will lead you right into your purpose," she says.