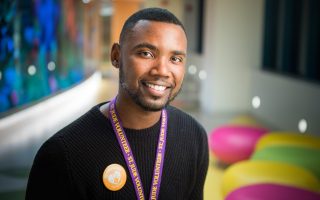 Amid the hustle and bustle of tests, procedures and appointments at St. Jude Children's Research Hospital, the highlight of a person's day can be a short conversation and a smile. Few know this better than Helping Hands volunteer Jahmaad Crudup.
Crudup joined the St. Jude team in August of 2016. Already a lifelong financial supporter of the hospital, he found another opportunity to give back when he moved to Memphis in 2014. For a while, Crudup considered attending a volunteer orientation, but life and nerves about visiting the hospital held him back. Eventually, he talked with a Helping Hands volunteer, who told him that his perspective would change when he volunteered. It certainly did, and Crudup still tells the story of his first Helping Hands shift — his favorite St. Jude memory.
The patient he spent time with wanted to color and play card games.
"She was blunt and a little reserved," he recalled, "but eventually she warmed up to me." Crudup spent most of his shift with her. Finally, as he was leaving, she told him she hoped to see him again soon.
"I felt extremely fortunate and grateful," Crudup said.
Crudup still remembers how much of an impact that small interaction had on him, and he strives to create those same experiences. Although volunteers can be called remotely, Crudup likes to start his shift by talking proactively with nurses to see where he can help. When he gets a call, he makes sure to make each one special.
"Parents get frustrated sometimes. They feel like the world is on their shoulders," he said. "We make a difference by showing them that somebody outside of their family does really care about their child."
When asked about his experience at St. Jude, Crudup said the best way to describe it would be "rewarding." He says that the time spent at St. Jude puts things into perspective, and helps one to "remain blessed, insightful and grateful." He rarely misses a week of volunteering.
"If I get to meet and talk to a new kid every time I'm here, that's good to me," he said. "I feel like I'm truly impacting their lives."