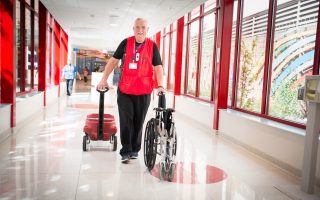 Serving others is something that has been second nature to Larry Davis his whole life. After spending 20 years in the U.S. Navy and then 21 years as a teacher in the public school system, Davis was looking for a way to continue his passion for serving others.
In November of 2016, Davis began to volunteer for St. Jude Children's Research Hospital in the Child Life Department. After completing the minimum shifts required, he also began volunteering as a Ready Runner. Now Davis can be found walking the halls of St. Jude twice a week with a big smile on his face.
"As a Ready Runner, in one shift, we average between 10,000 and 12,000 steps, making sure that the hospital entrances are supplied with clean wagons and wheelchairs and that the dirty ones are returned to the storage room. One time I did a double shift and walked over 19,000 steps in six hours," Davis recalls.
"But there is so much more to the job than that. We also guide families through the hospital to help them get to their next appointment or to visit someone. We deliver items to patients' rooms and fetch blankets when they are cold. We are there to help the patients and families be as comfortable as possible."
Davis' genuine passion for service has touched many lives at St. Jude. In return, the children have made a significant impact on Davis.
"I see some very brave children and parents come to St. Jude," Davis says. "Their faith in the doctors and the treatment they receive is overwhelming. I'm grateful to be involved in an organization that promotes such a loving and caring atmosphere."