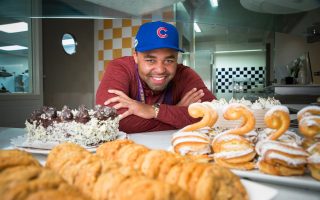 There is nothing like walking into Kay Kafe at St. Jude Children's Research Hospital and choosing among cakes, tarts, cookies or cheesecakes for a special treat. Few places at St. Jude are sweeter than the Kay Kafe Bakery—and Walter Evans, a bakery volunteer, is sweet enough to match it.
Evans began volunteering in October of 2016. The hospital's presence in the Memphis community and its dedication to finding cures inspired him to join our team as a volunteer.
"As a native Memphian, I felt compelled to do my part and contribute to a local organization that's made a worldwide impact," he writes.
On Tuesdays, Evans keeps a watchful eye over the bakery, making sure that fresh desserts are never too far out of reach. He says the bakery is one place where almost everybody at St. Jude comes together, from patients and families to staff members.
"Everyone loves sweets, so I frequently see a lot of St. Jude staff stopping by," he says. Even after the lunch rush has finished and hundreds of people have flooded through the cafeteria, Evans will make sure there's a gourmet treat ready for anybody in need.
There's something almost magical about these desserts and the way that the crunch of an almond cream puff shell or the curve of a hand-crafted pastry swan can delight. Evans is no stranger to this.
"I think the dessert station is the happiest place in St Jude. Nobody leaves it without a smile," he says. 
Evans says small reminders of kindness, like a pastry, can make a huge impact to an individual who may be having a difficult day.
"We all need help at one time or another in our lives," Evans says. "I hope I've positively impacted the patients and families at St. Jude by bringing a smile (and a piece of cake or a cookie) to them."