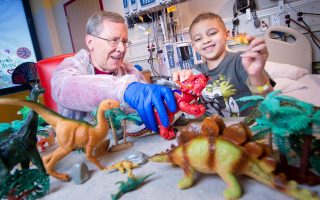 Helping Hands volunteer David "Paw" Fisher came to volunteer at St. Jude Children's Research Hospital to give back. He has traveled the path many are familiar with here at St. Jude. In July 2007, David's grandson, Sullivan "Sully" was diagnosed with Acute Lymphoblastic Leukemia. For the next 13 months, David spent many hours relieving and helping his daughter and son-in-law with Sully's care as both inpatient and out.
"During Sully's illness we were filled with gratitude for staff and volunteers who give themselves for the care of patients and their families," voiced David.
Sully's illness inspired David to not only become 'a part of the mission and vision of Danny Thomas and St. Jude, but also brought him into the world of pediatric cancers'. He began donating blood in 2007 and wanted to do even more after the passing of his grandson.
"I am here to help the children, families and staff, in any way I am needed. I am volunteering for Sully," David added.
David has been bringing moments of happiness and a caring face to patients and families since 2012. Every moment he spends with a child is a favorite memory. The many children are unique in their own fashion and David always finds a way to bring a smile to their face.
"Seeing what I witnessed in Sully, his courage, his love for life in the midst of a horrible disease, his smile and laughter when I knew he was suffering, is what makes volunteering so meaningful to me," expressed David.
The benefits that come along with being a St. Jude volunteer inspire David to continue to be dedicated. He enjoys being able to give to others and receive so much appreciation, joy, and lessons for life that he can hold with him forever.  "The children I have the privilege to serve, like Sully, teach me to face life with courage, even in the midst of fear, to love life, to smile, and to laugh, whatever life hands me," stated David.
Outside of volunteering and working as a minister, David enjoys spending time with his wife, their dog Sparky, and their grandchildren. He also enjoys writing and playing with his model trains.